Oxford beat Bowdon at Nottingham to win the Secretary's Shield 4-3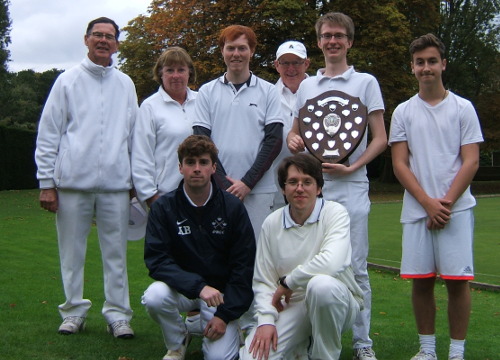 The Secretary's Shield Finalists (Photo: Ian Vincent)
by Dr Ian Vincent at Nottingham
10th October 2015 (
AC - Secretary's Shield
)
The final of the Secretary's Shield was played at Nottingham again this year, with the same two finalists, Bowdon (the holders) and Oxford. The difference this year was that Oxford turned up with a full team!
Oxford took the morning doubles and one of the two singles, but lost the first match to finish, which Will Mellor won convincingly. However, his opponent, Mark von Loon, had the excuse that he hadn't touched a mallet for three months, having spent the summer in the Netherlands.
After lunch, Jordan beat Lorna and Will beat Alex in the first two matches to finished. Alan beat Martin +3 to level the match, so attention focused on lawn 2, where Mark was playing Bob. With time approaching, Mark had a
useful lead, but still had Rover to run. Bob was joined the fourth corner, but Mark hit partner on the West Boundary. He ran Rover to a deep escape ball, but didn't get a rush back to partner, so just left a rush with the opponent well separated. Bob missed, joining up, and Mark missed with the forward ball. After some thought, he pegged out the backward won. Bob made a couple of hoops, but didn't get a break established and ended by scattering Mark's remaining ball. However, that enabled Mark to dribble to the peg and finish the following turn,
to give Oxford the Shield.
The full results, with Oxford names first, were:
Martin Lester (3 1/2) & Jordan Waters (7) bt Alan Mayne (-1) & Lorna Frost (9) +9
Mark van Loon (8) lost to Will Mellor (16) -22
Alex Bishop (18) bt Bob Hunter (12) +2(t)
Martin Lester lost to Alan Mayne -3
Jordan Waters bt Lorna Frost +20
Mark van Loon bt Bob Hunter +8
Alex Bishop lost to Will Mellor -12
---