Eden Rogers of Farlingaye School won the Junior Championship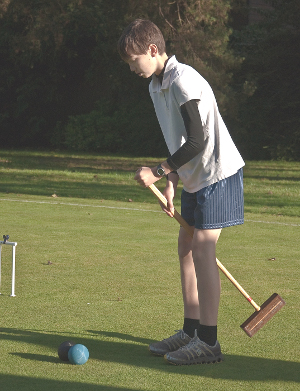 Eden Rogers of Farlingaye School, Winner of the Junior Championship (Photo: Quiller Barrett)
by Marcus Evans at Oxford University Croquet Club
20 September 2015 (
AC - Championships
)
The highest entry for 20 years saw Eden Rogers of Farlingaye School win the Junior Croquet Championship. Farlinghaye School won the National Schools Championship.
Sadly, last year's winners from Oakham School were unable to defend their titles. Their challengers from last year, Queen's College Taunton, returned but with largely different personnel in their two pairings, and were joined by two pairs from the Royal Grammar School Worcester, one pair from Wycombe Abbey School, and no less than three pairs from Farlingaye High School (near Ipswich).
Most of the teams had benefitted from coaching by an A-class player/teacher in Tim Jolliff (Taunton), Joel Taylor (Wycombe) and visiting Kiwi Jarrod Coutts (Farlingaye), though with varying amounts of lawn time, so as ever it was anybody's guess who might prove to be the strongest team on the day.
The eight pairs for the Schools Championship were drawn into a knockout designed to delay meetings between pairs from the same school for as long as possible and it was planned to end by 5pm, as nearly everyone had long journeys to make. This necessitated one-hour time limits, and while several games had predictably low scores as a result, there were quite a few peg outs - an impressive achievement as there were no bisques in play.
In the doubles the three Farlingaye pairs all triumphed, with the senior Worcester team taking the fourth semi-final place with a convincing win. Attention then turned to the singles, which saw the addition of James Galpin from Nailsea, the latest product of the Peter Dyke stable. This necessitated a preliminary round (randomly drawn in advance), which was played alongside the other seven first round matches. Three of the six Farlingaye players survived, along with two from Taunton, two from Worcester, one from Nailsea, and one from Wycombe, which was nicely symmetrical.
The next round of singles saw James Galpin beating James Mcleod of Taunton +4t, Alistair Pryke from Worcester seeing off Chay Hathaway (Ipswich) +6 (though for a long time it could have gone either way), Matthew Pugh of Taunton overcoming Isobel Friedlander (Worcester) +7t, and in the delayed first round game Sam Parkinson (Ipswich) beating Isolde Taylor (Wycombe - no relation to Joel).
In the remaining quarter-final Eden Rogers of Farlingaye took an early lead against his schoolmate Sam Parkinson and with careful play this led to a +2t victory. In the semi-final, what was expected to be a close battle between James's attacking play and Alastair's effective hoop at a time approach (often peeling partner) didn't materialise as the latter's form deserted him and James won +13.
In the other semi-final Eden, seemingly growing in composure all the while, won +5t in a game with a time limit reduced to 45 minutes. This left him with potentially 3 games to play and only about an hour until 5pm. Back to the doubles, where in one semi-final Jack Gibson and Alistair Pryke of Worcester kept their hopes of glory alive with a classic +1t victory over Albi Willett and Liam Flyn of Farlingaye, in a match that included a wrong ball and two misplaced clips. In the other all-Ipswich semi, all hopes of managerial respectability were dashed when the juniors (Eden Rogers and Ryan Gray) pulled off a shock +1t win against their senior colleagues (Chay Hathaway and Sam Parkinson).
With 5pm virtually upon us, the pragmatic decision was taken to reduce the time limits for the finals to just half an hour each. The singles was played first, and this time James didn't quite get a break together in time to overhaul the early lead taken by Eden, who won +2t. The doubles final was then won in the most dramatic fashion when in the final turn after time, Ryan hit in and then scored a long hoop two to break the deadlock and ensure both trophies were going to Ipswich.
I can only apologise to the players for having such short time limits at the end, having said that, I don't think this detracted too much from the day, which was a great advert for croquet - all the games were played in the best of spirits with each participant being a credit to their school and upbringing. Apart from the obvious difference in average age, another departure from a traditional association croquet event was the way most players tended to follow their opponent around the lawn during their turn, even moving their clips for them on occasion! I was thinking of stepping in to explain the usual etiquette, and then thought better of it - in many ways it was an improvement on standard practice and no-one seemed to be put off by it. Maybe this is a tradition we should re-think?
Many thanks to all those who made this event possible - the teachers/coaches, parents/drivers, Ian Plummer and (in particular) Jordan Waters of OUCC, Ian Burridge for collecting and delivering the trophies, and Quiller Barrett for presenting them (and for the photos).
---