RIP Bernard Neal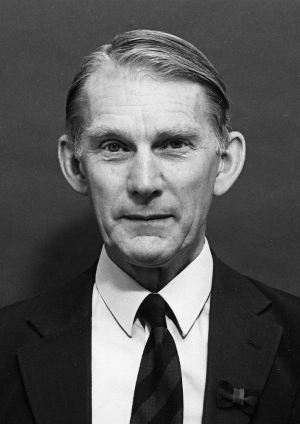 by Stephen Mulliner
28th March 2016 (
Other News
)
Bernard Neal passed away on Saturday 26 March, three days before his 94th birthday. He had been unwell for some time and had been admitted to hospital after a series of falls at home.
The croquet world owes a considerable debt of gratitude to Bernard as a top-class player, a very capable administrator and an invaluable link between the Croquet Association and the All-England Lawn Tennis and Croquet Club where he served as a committee member and Vice President for many years. It was through Bernard's good offices that the AELTCC presented the Wimbledon Cup in 1989 to be the trophy for the Association Croquet World Championship.
Bernard came to croquet in 1962 via lawn tennis and Wimbledon after a full-sized croquet court was installed in 1957. He joined the Croquet Association in 1963 and soon rose to the top of the game. He represented Great Britain in the MacRobertson Shield in 1969, 1974 and 1979. He was soon elected to Council which benefited over many years from his sound judgement and wise advice. He became Chairman of Council in 1972 and proceeded to set a record that is unlikely ever to be beaten, namely winning the Open Championship in both years of his chairmanship! His other unique claim to sporting fame is as the winner of the greatest number of Wimbledon titles, namely 38 times the winner of the Wimbledon Croquet Championship. This far surpasses the haul of any tennis player.
But above all, he was a gentleman, the most sporting of opponents and a very good and generous friend to very many croquet players in England and across the croquet world. He will be greatly missed and our thoughts and condolences go to Liz, Mike and Kathy on the loss of their husband and father.
Stephen Mulliner
---
Jim Bast, USCA, adds: My condolences to Bernard's family and friends. A true gentleman, indeed. He was an enormous help to the USCA in its formative years and served as a gracious host and guide, both literally and figuratively, to many of us on many occasions.
Bob Kroeger (USA) adds: I share Jim's views - Bernard was a tremendous help to the USCA, especially with getting our referee program going. Bernard did a video in 1981 in Florida demonstrating a 3-Ball Break.
---
John Prince (New Zealand) adds: That is so very sad, Bernard was a wonderful and kind hearted man. His generosity towards visiting teams during the MacRobertson series played in the U.K. was boundless. Centre court seats at Wimbledon during the Championships and for some of us a seat in the Royal Box, such a privilege. As guests at Moat Cottage in Cheltenham and also at their London flat we Kiwis remain so grateful for such marvelous hospitality.
Although we both played in the 1969,74 and 79 MacRobertson series we never met in singles, just twice in doubles in 1974 with honours shared. However, during the 1986 series I had the pleasure of playing three delightful games of doubles during the Hurlingham picnic, when following persuasion from Bernard, John Solomon came out of retirement to partner Bernard against Ashley Heenan, our team Manager and myself. Our play simply flowed, as did the Champagne on a delightful afternoon with a string quartet playing in the background. At the end of series dinner at Hurlingham I was presented with a very special book to commemorate my sixth MacRobertson appearance which contained messages from my opponents. The idea, collection of messages and printing all organised by Bernard Neal, such a wonderful and treasured gift.
He will, as Stephen comments, be greatly missed by so many croquet players around the globe.
---
Tony Hall writes:
We have indeed lost a pillar of the game. During the period from 1998 to 2002, when I was the President of the WCF, he assisted me greatly in presenting the WCF as the world governing body. Much of his assistance was behind the scenes. I appreciated his help enormously, particularly after Chris Hudson resigned as the Sec-General and I was left with both jobs for a year until I recruited Gary Fox. I will always remember Bernard at lunch, watching the final of the Open Singles at Hurlingham and at dinner in Cheltenham. His quiet influence on table discussions was immense. He was the epitome of an English gentleman.
---