Bath - The Millennium Cup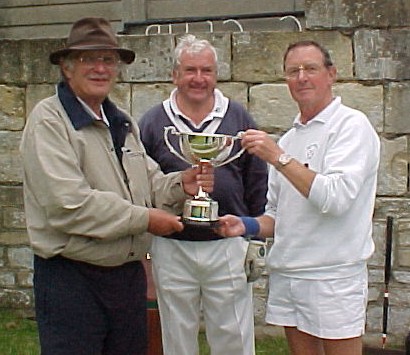 Tony Doughty (donator of the cup) watches as it is handed to the winner Bob Whittaker
by Richard Everett at Bath
9th July 2000 (
AC - Handicap
)
It was a weekend of firsts for the Bath Croquet Club at their Tournament in July. The tournament was:
The first open at bath for some 50 years
The first tournament for a new manager (Richard Everett)
The first full use of Richards new computer program (trialed at Nailsea Aug '99)
The first open competitions win for the winner (Bob Whitaker)
The first sight of a new cup for the Millennium
Forecasts of appalling weather did not deter a full entry of 20 from turning up to Bath. Entrants came from as far away as Ipswich and Reigate. Rain held off on the Saturday for what turned out to be a triumph for Nelson Morrow who was unbeaten by the end of the day. The second day started with Richard Wood from the Zen Met club (Zeneca and Meteorological Office Club) being blamed for the deterioration of the weather. The quality of play held up though and Alison Thursfield was actively involved in a large amount of work in refereeing decisions. Cups of soup, tea and coffee were in demand Audrey Whitaker being up to the challenge of providing them in a never ending stream.
One refereeing decision of interest arrived in a game between Frank Burch and Nelson Morrow. Following Nelson peeling his opponent through rover when running rover himself he managed to hit both reception balls simultaneously. After some discussion with the referee he nominated which one to take croquet from.
In the afternoon the manager became worried that a result of a match between Bob Whitaker and Nelson Morrow would result in a nightmare for him. If Bob were to win it would result in a three-way tie for the cup. As it was assumed that the cup could not be cut in three a decision would be needed. In this case it had been advertised that this would be decided by who beat whom - of the three each of them had beaten the one of the others in the round. So how to make the decision?
A number of people gleefully came to the manager to warn him that his nightmare was about to happen. Hurried conversations between the ROT and the manager resulted in three 1 ball games to be played between the 3 pairings as a 'golden goal' method and if that did not get a result a 'penalty shootout' option was planned. In the event Bob Whitaker saved the managers blushes and got a result in the second pairing winning two of the 1 ball games against both Nelson Morrow and Tony Backhouse.
Vicious rumours that Tony Doughty (donator of the cup) would run off with it if he didn't approve of the person winning proved to be unfounded or perhaps he just did approve of Bob winning it.
Results
Winner: Bob Whitaker
Second: Tony Backhouse
Third: Nelson Morrow
Handicap changes: None
Awards: None
---