Reg Bamford won the Coles Championship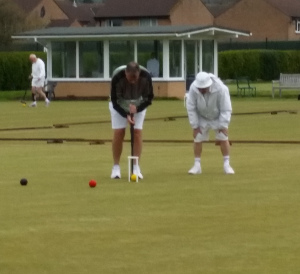 by Dave Kibble at Cheltenham
2nd May 2016 (
AC - Championships
)
Reg Bamford won the Coles ("not the Western") Championship beating James Hopgood 3-0 in a final in which James (having been let in by Reg forgetting they would play the third SA) was unlucky to finish a TP with an Irish Rover that left a difficult shot at the long ball that nicked partner - with an almost impossible peg-out, he went for it, leaving partner a yard from the peg. He chose to decline the combination peg-out in favour of a leave with a 12-yard shot. Reg nicked the shot and went round leaving no shot at the peg and a 40 yard shot at a trap leave. James cornered letting Reg try a 2-ball finish, which came to grief when Reg over-ran the rush out of 3-back but made an impressive cut rush toward the corner 3 ball but not close enough to get a rush on it. The approach to 4-back was short as was the ball being sent towards corner 1 leaving James with a chance with an 11-yard peg shot, which narrowly missed but nearly clipped Reg's ball in the distance. Reg finished +26SxP, +26SxP, +1
In the photro: Reg nails a close angled straight Penult peel for his second sextuple of the match.
Now that the historical macho reasons for moving the Western Championship is sufficiently far in the past, it seems a foolish scheduling error to have the Coles and Westerns on the same weekend - isn't it time to return the Western Championship to Cheltenham and bring together the two groups of top players?
Full results on Croquet Scores.
---