CA Women beat Lancashire 6-3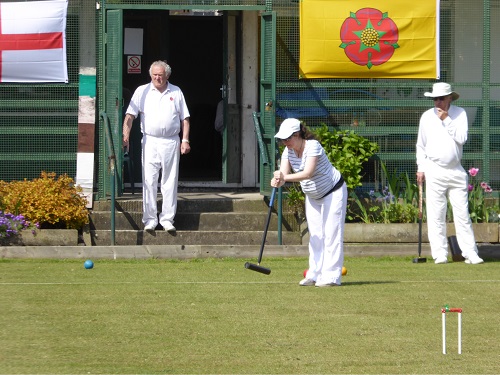 Miranda Chapman in action against David Openshaw (Photo: Derek Deadman)
by Ian Burridge at Bury
13th May 2016 (
Other News
)
The CA Women won an inaugural match against the reigning Division 2 Inter-County Champions, Lancashire. The match was held to be a success and it is hoped that it can be repeated next year.
Of the match itself, James Hawkins writes:
The CA Women's Squad played members of the Lancashire Inter-Counties squad at Bury's Whitehead Park on 7/8 May. The Women won the match 6-3. The new lawns needed particular care from the players, resulting in several long matches. The outcome could have tipped in favour of either team, but congratulation to the Women for a deserved victory.
Results
Lancashire names first
Paul Rigge and Lee Hartley beat Ailsa Lines and Beatrice McGlen -6T +17 +17
James Hawkins and John Haslam beat Annabel McDiarmid and Liz Wilson +14 +11
Dave Nick and Peter Wilson lost to Miranda Chapman and Sylvia Steer -1T -2T
David Openshaw lost to Miranda Chapman -23 -20
James Hawkins lost to Annabel McDiarmid -12 -23
Paul Rigge lost to Ailsa Lines -18 -8
Dave Nick beat Beatrice McGlen +2 +21
John Haslam lost to Liz Wilson -2T opp ret
Peter Wilson lost to Sylvia Steer -11 -1T
---