Brian McCausland won the Nailsea C-Class Tournament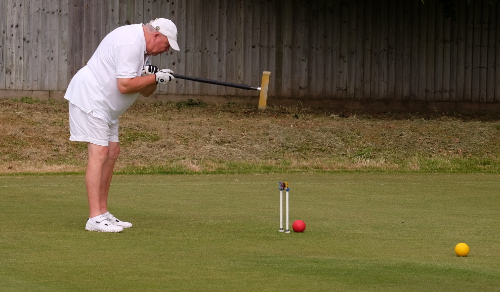 Winner Brian McCausland running a hoop. (Photo: Mike Tracey)
by Mike Tracey at Nailsea CC
5 Jun 2016 (
AC
)
Twelve players contested the Michael Poole Cup this year, seven from Nailsea and five visitors. The Nailsea representatives were Peter Dyke, Erica Malaiperuman, Brian McCausland, Robert Upton, Kathy Wallace, Brian Roynon and Linda Shaw (the last two playing in their first advanced rules tournament. The visitors were Mike Salisbury, Richard Jackson and Pat Jackson from Bristol, Jeffrey Rushby from Southwick and Brian Shorney from many places including Kington Langley. The conditions were overcast and almost warm on Saturday, then hot and sunny on Sunday. One would have expected the lawns to be quite fast as John Wallace had cut them in both directions on Friday evening, but as a result of the early morning dew, humid atmosphere and the grass growing like a rocket this turned out not to be the case. John came back and did another cut on Sunday morning and the speed went up significantly. The hoops were newly set to an accurate 1/16th" and proved to be challenging, so the referee was called many times to watch hampered shots after a ball had just crept through a hoop with the escape ball in front of the hoop. This goes some way to explain why only five of the thirty games finished inside the 3 hour time limit, Kathy having the fastest win in 1 hour 45 minutes.
Brian McCausland swept all before him, winning all of his five games and so taking the Michael Poole Cup home, exactly as he did in 2014, so congratulations to him. There was a tie between Kathy Wallace and Richard Jackson for the so-called Moroccan award (for the best improvement in index by someone other than the Cup winner), so they both got a bottle of wine. Kathy also won a bottle of beer for her fastest win and Brian Roynon also won a bottle of beer for the biggest upset by beating Richard Jackson, their handicaps being 11 and 5 respectively.
Coral Harrison and Liz Tracy did magnificent lunches, Linda celebrated her birthday and a good time was had by all. Brian Shorney congratulated our club for providing an opportunity for players in this handicap range (5 to 12) to play advanced rules croquet and expressed the hope that more clubs would follow suit.
---