Student Championship Results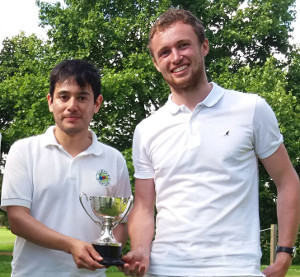 Cambridge Winners: Cesar Miranda-Reyes & Craig Winfield (Photo: Ian Plummer)
by Jordan Waters at Oxford University Croquet Club
12 Jun 2016 (
AC - Championships
)
The two-day event consisted of both a singles and doubles knockout tournament played level advanced. With entries from the Oxford University Association Croquet Club, the Cambridge University Association Croquet Club and Trinity College Dublin Croquet Club there were a total of 12 participants, four from each university.
With a bye given to the four returning semi-finalists from 2015, a four-stage knockout tournament for the Student Open Championship saw an Oxford vs Trinity College Dublin final match of Jordan Waters vs John Francis Martin. The Dudley Hamilton-Miller Trophy was awarded to Jordan after a very close final with a result of +1 on time. The Students' Team championship consisted of a three-stage knockout tournament due to limited time and the Edmund Reeve Trophy was awarded to the Cambridge team consisting of Cesar Miranda-Reyes and Craig Winfield who emerged the winners of their match against the Oxford team consisting of Mark van Loon and Harry Williams.
Despite the consistent rainfall, this was a fantastic event and great to see students travel far from Oxford (Cambridge and Ireland) to make it to the tournament.
---