Pendle & Craven Midweek Tournament Results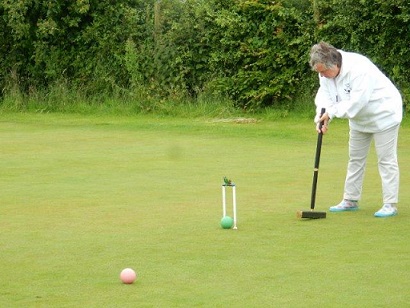 The Manager found time to win the Rose Bowl. (Photo: Peter Wilson)
by Peter Wilson at Pendle & Craven
5-7 July 2016 (
AC - Mixed
)
Pendle Rose Bowl (Open Advanced Singles) Liz Wilson.
David Jenkinson Tankard (B Level Advanced) David Gillett.
Pennine Trophy (Singles Handicap) Jim Wilson.
David Hoyle Trophy (Singles High Handicap) Peter Dewhurst.
The Irish Cup (Egyptian) David Gillett.
The Woodlands Trophy (Handicap Doubles) Terry Vernazza & Roger Staples.
The Egyptian Cup (Fastest Game) Peter Wilson.
The Addict (Most Games Played including doubles) Not awarded.
As always, the manager, Liz Wilson, built in some flexibility to the event with some players electing only two games per day and 18 point handicap games also on offer.
Twenty two entrants, sixteen of them in the doubles, including our regular stalwarts and some new faces from Carrickmines and Hamptworth set out in pursuit of the eight trophies on offer this week. The doubles was run in two blocks and the winners of each block would play a final on Friday. The other main trophies were all block events too.
On Wednesday, after play Roger Schofield celebrated his birthday by inviting all to a BBQ supper.
Is four days of Sunshine, or at least dryness too much to expect in July? Thursday morning's games were replaced by Trivial Pursuits in the club house. The manager did an excellent job of prioritising the games as gradually, one by one, the lawns became playable. Only a few Egyptian games were lost overall.
Handicap Changes:
Peter Dewhurst from 14 to 11.
Richard Forman from 12 to 11.
Jim Wilson from 8 to 7.
David Gillett from 7 to 6.
---