Chris Sheen takes the GC Veterans title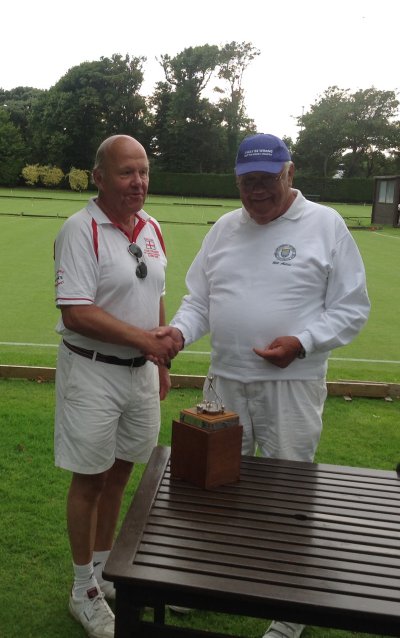 Chriss receives the Alan Oldham Memorial Trophy from Manager, Bill Arliss (Photo: Richard Brooks)
by Bill Arliss at Southwick
22nd July 2016 (
GC - Championships
)
This was the tenth staging of this competition and it certainly lived up to its name this year as three entrants fell by the wayside during the preceding week, two through injury and a third with hip replacement problems. After starting with a nice round number of 24, Manager, Bill Arliss was left with plan D, how to deal with 21 players. After many last minute attempts to find an extra player, a compromise was reached with two guest players from Southwick filling in for one day during block play allowing the competition to be run as two blocks of eleven. This of course meant that each round had a bye but it was very easy to schedule the two byes to play each other, not part of the competition but quite serious play for handicap and ranking points.
With the numbers entered it was quite possible to play all games on re-laid lawns at Southwick. With three of the hottest days of the year and newly cut lawns, the balls were running straight and true but also very fast. This combination lead to some quite quick games allowing the blocks to be completed just after 3.00pm on the Wednesday. Block A was very much a Southwick affair with Richard Brooks leading with nine wins closely followed by Daphne Gaitley, also with nine wins and Robin Wootton with eight Block B featured visitors with Dick Strover leading with eight wins closely followed by Chris Sheen and David Hopkins with seven. With the time available it was possible to take the top 8 in each block and finish the competition all with best of three 13 point games.
The first round of the knockout was played on the Wednesday evening. No real upsets there but manager Bill Arliss gave block A winner Richard a slight fright with a 7-3 win in the first game and a lead of 5-3 in the second. Richard then showed his class with hoop ten run from nine, eleven run from the boundary at an angle with the final killer blow of being able to put his first ball at 13 through the back door of 13. However Richard's luck did not hold out and he left the competition in the next round after three hard games with Chris Sheen. David Hopkins joined Chris in the semi final which was won by Chris again after three hard games. The other semi featured Daphne Gaitley and Dick Strover with Dick the winner. l.
The final started at 3.30pm and was keenly contested, again over three games with Chris finally taking the match 7-3, 4-7, 7-4
All first round losers plus those who did not make the knock out played a flexible Swiss during the final day with Keith Webb claiming the wine with an 80% record.
It was interesting to note that five of the entrants for this event also played in the first staging in 2007 with Dick going on to win the trophy in 2008 and 9
Bill Arliss
---