David Goacher won the John McCullough Challenge Trophy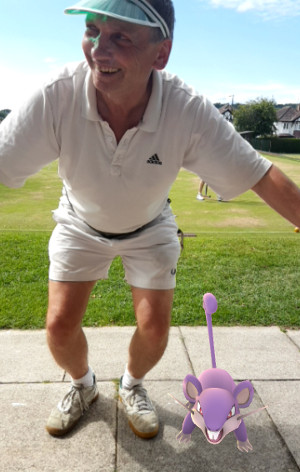 David (The Goat) Goacher chasing a Pokemon (Photo: Kriss Chambers)
by Dave Kibble at Bristol
25th July 2016 (
AC
)
Bristol's lawns were in fine speedy shape with firm well-set hoops - several games went to time and few peeling turns were completed by the majority minus-player field.
In the final, Dave Kibble was mid way through a well-constructed quad to win when a take-off to 3-back was short enough to allow a gentle shot to hill off. The Goat (for 1 and 2) crept back until the lift at 1 and 4-back was hit and Dave K ran two hoops to peg but made a poor leave offering a 14-yard shot for a laid standard TP. The Goat hit the shot and made no mistake in his 50-minute standard TP to win, finishing at 8:30 PM. The three remaining spectators went wild with delight that it was all over.
David (The Goat) Goacher is pictured by Kriss Chambers after being told there was a Pokemon to be caught next to lawn 1.
---