Phyllis Court lost to Ashby 3-4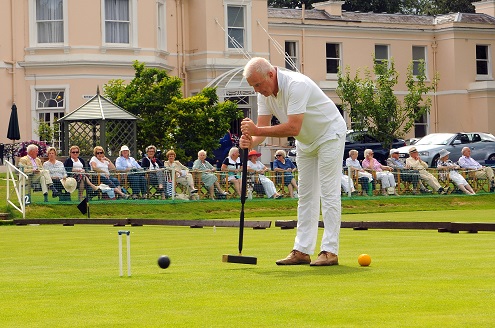 Ashby hero David Bell in action, watched by the sizeable Phyllis Court crowd (Photo: Chris Roberts)
by Dr Tim King at Phyllis Court
31st July 2016 (
GC - Inter-Club
)
Reigning champions Ashby scraped through a very close match to beat Phyllis Court and reach yet another GC Inter-Club Championship final.
At several points during the day, Phyllis Court looked favourites to pull off a great victory against opponents that were stronger on paper.
The match had been enthusiastically and successfully promoted by Chris Roberts and Frances Colman to members at Phyllis Court and at the peak, over 60 spectators were enjoying the contest. This size of crowd was almost certainly a record for the Inter-Club Championship, finals included.
None of the Ashby team or their travelling support (faithful parents Arthur and Judith Rowe and some-time playing members of the team Ray and Chris Mounfield) had previously been to Phyllis Court. They were all suitably impressed by the peaceful surroundings on a perfect summer's day with red kites, Canada geese and parakeets adding to the idyll.
Phyllis Court dealt their main blows to Ashby in the morning session.
In the doubles rubber, Charlie von Schmieder and Chris Roberts withstood a strong middle game from Will Gee and Rachel Rowe and won the third at hoop 13.
Meanwhile, Helena Fensome faced a high tempo performance in her first game against Tim King but she too delivered for Phyllis Court by winning the next two. Helena did a brilliant job to come back from the frustration of having Tim drift an approach from beside hoop 8 into the jaws of hoop 9!
The moment at which the other rubbers had both finished saw Roger Goldring and David Bell level at 1-1 in their deciding game. David ran hoop 3 and this created the opportunity for a peg-down to allow everyone to break together for lunch.
The teams enjoyed a fine meal in a convivial setting before deciding to put the incomplete rubber on hold and start the four afternoon rubbers instead.
Will and Rachel clearly enjoyed playing singles rather than doubles together as they made comfortable work of their opponents and began to give Ashby some hope.
Phyllis Court, however, had taken the first game in both the other two rubbers.
Most impressively, Helena came back from 1-6 to win. She is a player who never lacks determination and she has beaten some top opponents over the years when her persistent clearances and long hoop shots have proved to be the difference.
Tim, meanwhile, made no dent in Roger's calm and steady play, leaving David to be the hope on which Ashby were resting. David, firstly, had to turn the match around against Helena and he did this from 3-5 in second game before taking a comfortable score in the third.
Then, Roger versus David resumed and despite both continuing off the back of completing successful rubbers, Roger was the one who retained his previous form.
The resumption score of 1-2 became 4-2 and the Phyllis Court crowd were beginning to believe that a famous victory was a real possibility.
David, however, ran hoop 7 to the vicinity of hoop 8 and was able to convert that advantage to level at 4-4. He lost hoop 9 but, as Roger showed the first sign of tension in a couple of shots that could have swung the game, David won 10 and 11 to give, at last, Ashby some real momentum.
After David had ran 11 from the boundary, Roger kept his nerve to engineer his blue ball into the jaws of hoop 12, with red being close to the side of the hoop and no chance to clear.
David pondered carefully but in the end the course of action was with little doubt.
Red cleared the nearby black, which was unable to prevent yellow being left with a seven-foot, straight jump shot.
David used his Solomon grip to full effect, gained plenty of height and, although contacting the hoop legs on the way, yellow gave Ashby the final point to win the match.
Chris and Frances's efforts had been rewarded: the match was tight and thrilling and the spectators had been able to see GC of high standard.
The closeness of the result was definitely a testament to the determination of the Phyllis Court team, despite Ashby achieving a sizeable net hoop score across the seven rubbers. The former had won all five games that went to the thirteenth hoop.
Ashby go on to play in the final on Saturday 24 September against the winner of the semi-final between Surbiton and Dulwich. These three teams have, between them, won 10 of the previous 11 finals. Ashby will be looking for their fourth win in their ninth final, while Surbiton have won five of eight appearances in finals and Dulwich are undefeated in two appearances.
Teams (Handicap)
Phyllis Court
Charlie von Schmieder (-2), Chris Roberts (-2), Helena Fensome (1), Roger Goldring (1)
Ashby
Will Gee (-3), Rachel Rowe (-3), David Bell (-2), Tim King (0)
Results
Morning
Charlie von Schmieder & Chris Roberts beat Will Gee & Rachel Rowe 7-5, 3-7, 7-6
Helena Fensome beat Tim King 3-7, 7-6, 7-4
Roger Goldring lost to David Bell 5-7, 7-6, (completed to decide the match) 5-7
Afternoon
Charlie von Schmieder lost to Will Gee 5-7, 3-7
Chris Roberts lost to Rachel Rowe 5-7, 0-7
Helena Fensome lost to David Bell 7-6, 5-7, 2-7
Roger Goldring beat Tim King 7-6, 7-5
---