Luc Berthouze won the COWhorn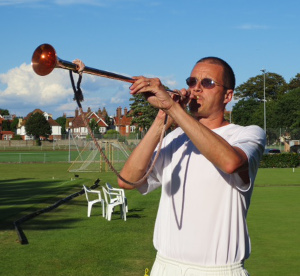 by Roger Wood at Compton Croquet Club
31 Jul 2016 (
AC
)
At the end of June, with just a month to go, and only two entries received, the gloomy prospect of cancellation loomed large. However July came and with it a steady trickle of additional entries; thus the day of the competition dawned with a very respectable field of 14. It was decided to play best-of-3 matches from the second round onwards - fortunately the contestants obliged and all play was duly completed before 6pm on Sunday. Favourable comments about the improved quality of the lawns were well received and we are aiming at further improvement in the years to come.
We were pleased to welcome Rob Edlin-White, Tudor Jenkins, Dominic Nunns and Joel Taylor making their first appearance in this event. Particularly welcome was the return after many years of four-times COWhorn winner and two-times COWbell winner Phil Cordingley who has clearly lost none of his gusto and will to win. His only losses during the weekend were to Luc Berthouze in their semi-final; after which he beat Joel Taylor in the third place play-off. Jonathan Lamb certainly found his form and fought his way to a well-deserved place in the final against Luc; but there his shooting deserted him and Luc ran out the winner in straight games finishing with a fine triple when Jonathan was for penultimate and peg.
Defending COWhorn holder Roger Tribe owned to being out of practice but soon got into his stride completing three triples. He was just pipped at the post from winning the Swiss by Dominic Nunns who, having lost to Jonathan in the knockout, won all his Swiss games to take the COWbell. Dave Kibble, despite troubles with his trusty bedside clock, took the Ace Peeler's helmet.
Off court interest was provided by Dominic applying his professional horn playing skills in an attempt to extract a tune from the COWhorn, a success which has eluded all previous challengers. But it seems that the instrument was probably manufactured for show rather than music making and he could only find three notes - so the horn is somewhat diminished in repute but still remains ideal for the mantelpiece!
Knockout for the COWhorn
Phil Cordingley

Phil Cordingley
+12

Phil Cordingley
+26 +26tp

Luc Berthouze
-5 +24 +16TP

Luc Berthouze
+22 +4tp

Roger Tribe
Andrew Gregory
Sam Murray

Sam Murray
+26tp

Luc Berthouze
+18 -5 +3

Ian Vincent
Luc Berthouze

Luc Berthouze
+17

Tudor Jenkins
Jonathan Lamb

Jonathan Lamb
+26tp

Jonathan Lamb
+17 -17 +16

Jonathan Lamb
+17 -17 +26

Dave Kibble
Dominic Nunns

Dominic Nunns
+18tp

Graham Pegley
Joel Taylor

Joel Taylor
-7 +26tp +14tpo

Robert Wilkinson
Robert Wilkinson +26
Rob Edlin-White
3rd Place
Phil Cordingley beat Joel Taylor +22tp
Swiss for the Cowbell
Winner: Dominic Nunns (6/8)
(4/6) Dave Kibble
(5/9) Roger Tribe
(3/7) Robert Wilkinson
(2/5) Graham Pegley, Ian Vincent
(2/6) Tudor Jenkins, Sam Murray
(1/6) Andrew Gregory
(0/5) Rob Edlin-White
Ace peeler: Dave Kibble; runners up Joel Taylor, Roger Tribe
COWpat: Rob Edlin-White
---