Barlow and Longman Bowl Results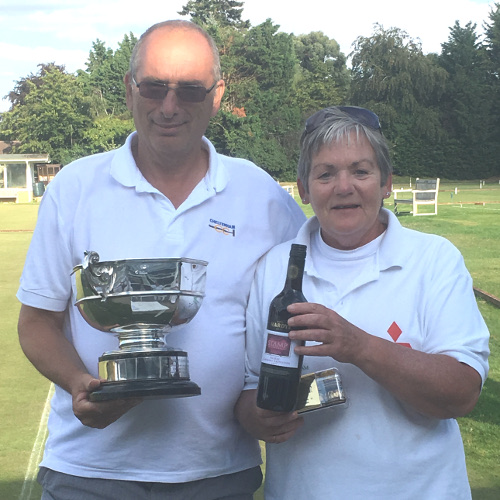 Barlow Bowl Winner Sarah Hayes with Tournament Director David Foulser (Photo: Sophie McGlen)
by Sarah Hayes/Sophie McGlen at Cheltenham Croquet Club
16th August 2016 (
AC
)
After 13 years of absence, the Barlow Bowl and Longman Trophy were competed for at Cheltenham on the 13/14th August. The sun shone, the lawns were fast and the chatter (and wine!) flowed as the newly formatted ladies sixes were played. Contested as a single round robin, the sixes were competed for over a weekend which seems to have re-ignited interest from players to enter.
The top six (Barlow Bowl) was won by the undefeated Sarah Hayes and Beatrice McGlen won the Mallet Brooch as runner-up. The second six (Longman Trophy) by Liz Farrow who won four out of five matches and who also gained her silver award.
The ladies sixes have been brought back by the CA as a trial following on from the success of the womens world championships at Nottingham last year. They certainly seem to have been a great success with good interest and are an encouragement for women to compete in advanced tournaments. Long may they continue to be competed for!
---