Andy Myers Won the Spencer Ell Cup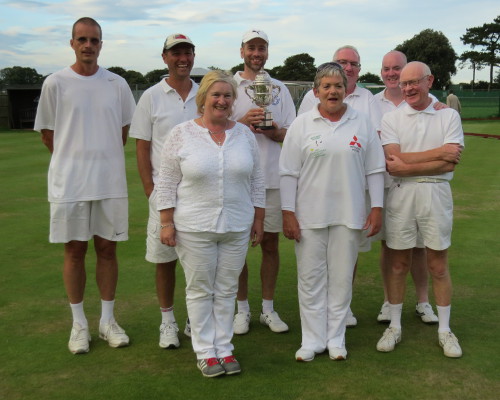 L-R: Luc, Nick, Annabel, Andy, Sarah, Dave, Sam, David (Photo: David Thirtle-Watts)
by Nick Parish at Hunstanton
8-12 Sep 2016 (
AC - Championships
)
Hunstanton provided nice lawns, good food and, for four days, delightful weather. On Saturday it poured all day but even this failed to disturb play as good drainage, double-banking and judicious use of the fifth lawn prevented delay. This meant there was nothing to blame except the players' incompetence for the tournament getting further and further behind, which meant an increasingly harassed manager Dave Kibble, and earlier starts each day, culminating in a final day 8am start for David Harrison-Wood which got the tournament back on track. It also enabled David H-W to finish three games before lunch, surely unprecedented.
Sam Murray won his first five games to take an early lead, but then lost his next three, with Dave K and Andy Myers the other early challengers. David H-W was always in the race if he won his ever increasing number of pegged down games, while Annabel McDiarmid's slow start prevented her fantastic finish (seven wins from her last nine) from propelling her into contention. Sarah Hayes was just off the pace, while Luc Berthouze and Nick Parish were the whipping boys whose sole target after day one was avoiding last place.
There was an exciting finish entering the last round with Andy & Dave K on 9 wins and Sam & David H-W on 8, and none of them playing each other. Dave K and Sam both lost quickly, but with Luc and Nick both starting winning turns against Andy and David H-W respectively, manager Kibble was left wondering if he would prefer to come second, or to be part of a two or three-way play-off starting at 5pm. As it turned out Nick and Luc reverted to type and broke down on their winning turns, meaning that Andy's win was enough to give him the trophy, with Dave and David tying for second.
We owe a huge debt of gratitude to the Hunstanton members, in particular for uncomplainingly mowing and setting up the lawns for us to play earlier and earlier every day. We would not have finished without their immense effort.
Positions after 14 Rounds
PLAYER
AM
DHW
DJK
AMcD
SM
SH
LB
NP
Won
Tot
Pos
Andy Myers
-2
-13tpo
+16tp
-16
+21
+2
+26
4
10
1
+14
-21STP
+15tp
+3
+9
+3
+8
6
David Harrison-Wood
+2
+17
+5tp
+13
-17
-17
+13
5
9
2=
-14
+6
+3
-5
-22tp
+6
+5
4
Dave Kibble
+13tpo
-17
-14
-10
+15tp
+3
+22tp
4
9
2=
+21STP
-6
-26
+11tpo
+22
+12
+19tp
5
Annabel McDiarmid
-16tp
-5tp
+14
-10
+11
+3
-5
3
8
4=
-15tp
-3
+26
+22
+24tp
+26
+6
5
Sam Murray
+16
-13
+10
+10
-2
+11
+3tpo
5
8
4=
-3
+5
-11tpo
-22
-3
+26
+19
3
Sarah Hayes
-21
+17
-15tp
-11
+2
+17
+2
4
7
6
-9
+22tp
-22
-24tp
+3
-4
+12
3
Luc Berthouze
-2
+17
-3
-3
-11
-17
-7
1
3
7
-3
-6
-12
-26
-26
+4
+2
2
Nick Parish
-26
-13
-22tp
+5
-3
-2
+7
2
2
8
-8
-5
-19tp
-6
-19
-12
-2
0
Peeling Statistics
| PEELING etc. | op | sxp | qnp | qp | tp | ot | Tot |
| --- | --- | --- | --- | --- | --- | --- | --- |
| On partner | | | | | 8 | | 8 |
| On opponent (winning) | | | | | 3 | n/a | 2 |
| On opponent (losing) | | | | | | n/a | |
| Straight | | | | | 1 | n/a | 1 |
| Total | | | | | 11 | | 11 |
Margin Statistics
| Margin of Victory | 1 | 2 | 3 | 4 | 5 | 6 | 7 | 8 | 9 | 10 | 11 | 12 | 13 | 14 | 15 | 16 | 17 | 18 | 19 | 20 | 21 | 22 | 23 | 24 | 25 | 26 | TOTAL |
| --- | --- | --- | --- | --- | --- | --- | --- | --- | --- | --- | --- | --- | --- | --- | --- | --- | --- | --- | --- | --- | --- | --- | --- | --- | --- | --- | --- |
| Occurrences | | 5 | 7 | 1 | 4 | 3 | 1 | 1 | 1 | 2 | 3 | 2 | 3 | 2 | 2 | 2 | 4 | | 2 | | 2 | 4 | | 1 | | 4 | 56 |
Full Results
Rd
Ln
Thursday, 8 September
1
1
Dave Kibble
beat
Sarah Hayes
+15tp
2
Sam Murray
beat
Annabel McDiarmid
+10
3
Andy Myers
beat
Nick Parish
+26
4
Luc Berthouze
beat
David Harrison-Wood
+17
2
1
David Harrison-Wood
beat
Andy Myers
+2
2
Nick Parish
beat
Luc Berthouze
+7
3
Annabel McDiarmid
beat
Sarah Hayes
+11
4
Sam Murray
beat
Dave Kibble
+10
3
1
Sam Murray
beat
Nick Parish
+3tpo
2
Sarah Hayes
beat
David Harrison-Wood
+17
3
Dave Kibble
beat
Luc Berthouze
+3
4
Andy Myers
beat
Annabel McDiarmid
+16tp
Rd
Ln
Friday, 9 September
4
1
Sarah Hayes
beat
Luc Berthouze
+17
2
Sam Murray
beat
Andy Myers
+16
3
Nick Parish
beat
Annabel McDiarmid
+5
4
David Harrison-Wood
beat
Dave Kibble
+17
5
1
David Harrison-Wood
beat
Annabel McDiarmid
+5tp
2
Dave Kibble
beat
Nick Parish
+22tp
3
Andy Myers
beat
Sarah Hayes
+21
4
Sam Murray
beat
Luc Berthouze
+11
6
1
Dave Kibble
beat
Andy Myers
+13tpo
2
Annabel McDiarmid
beat
Luc Berthouze
+3
3
David Harrison-Wood
beat
Sam Murray
+13
4
Sarah Hayes
beat
Nick Parish
+2
Rd
Ln
Saturday, 10 September
7
1
David Harrison-Wood
beat
Nick Parish
+13
2
Sarah Hayes
beat
Sam Murray
+2
3
Annabel McDiarmid
beat
Dave Kibble
+14
4
Andy Myers
beat
Luc Berthouze
+2
8
1
Annabel McDiarmid
beat
Sam Murray
+22
2
Andy Myers
beat
Nick Parish
+8
3
David Harrison-Wood
beat
Luc Berthouze
+6
4
Dave Kibble
beat
Sarah Hayes
+22
9
1
Andy Myers
beat
Sarah Hayes
+9
2
Dave Kibble
beat
Luc Berthouze
+12
3
Sam Murray
beat
Nick Parish
+19
4
David Harrison-Wood
beat
Annabel McDiarmid
+3
Rd
Ln
Sunday, 11 September
10
1
Sam Murray
beat
Luc Berthouze
+26
2
Andy Myers
beat
Annabel McDiarmid
+15tp
3
Sarah Hayes
beat
David Harrison-Wood
+22tp
4
Dave Kibble
beat
Nick Parish
+19tp
11
1
Annabel McDiarmid
beat
Nick Parish
+6
2
Sam Murray
beat
David Harrison-Wood
+5
3
Dave Kibble
beat
Andy Myers
+21STP
4
Luc Berthouze
beat
Sarah Hayes
+4
12
1
David Harrison-Wood
beat
Dave Kibble
+6
2
Sarah Hayes
beat
Nick Parish
+12
3
Annabel McDiarmid
beat
Luc Berthouze
+26
4
Andy Myers
beat
Sam Murray
+3
Rd
Ln
Monday, 12 September
13
1
Luc Berthouze
beat
Nick Parish
+2
2
Andy Myers
beat
David Harrison-Wood
+14
3
Dave Kibble
beat
Sam Murray
+11tpo
4
Annabel McDiarmid
beat
Sarah Hayes
+24tp
14
1
Sarah Hayes
beat
Sam Murray
+3
2
Annabel McDiarmid
beat
Dave Kibble
+26
3
Andy Myers
beat
Luc Berthouze
+3
4
David Harrison-Wood
beat
Nick Parish
+5
---