David Maugham won the President's Cup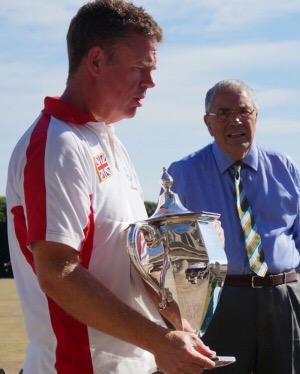 David Maugham wins the President's Cup. (Photo: Paddy Chapman)
by Robert Fulford at Ramsgate
11th September 2016 (
AC - Championships
)
This year's event was at Ramsgate. Ramsgate club is situated very close to the coast near the top of a cliff (I guess it is classed as the North Sea rather than the Channel here) and always watch the forecast here for wind. With the courts paying fairy fast and unevenly paced and a significant wind gradient, conditions were unusually challenging. Long croquet strokes were frequently followed by five yarders and a couple of the hoop approaches were treacherous if you were overambitious trying to get close. This might sound like complaining but for this event they were perfect, many thanks to all the volunteers who helped prepare the lawns.
The selection for the last England Mac place was looming large, with Mark Avery, James Hopgood, Jeff Dawson and Jack Wicks in with a shout though Wicks maybe needed to win the event to make it happen.
Dave Maugham set the early pace winning all his four games on Day one. Most people's favourites Robert Fulford and Paddy Chapman were on three, Stephen Mulliner on two and the rest of the field on 1.
Day two started with Maugham against Fulford. Fulford got to peg alone having failed to finish a triple peel with Maugham still on 6 and penult. Maugham then played a great turn, hitting his lift shot and then approaching both 6 and then 1-back in turn from 10 yards away to get a three ball break going. Fulford missed a 20 yarder at the peg and Maugham finished +1.
Maugham continued his good form reaching the end of the first series unbeaten, making far fewer errors than everyone else and completing a useful TP against Chapman. This was the day when conditions were hardest with the wind blowing and the hoops still fairly firm. Not all the games were finished in the last round and the leaders Maugham and Fulford both ended with pegged down games where they were in trouble against Dawson and Mulliner respectively. Chapman versus Avery did finish with Avery having the unluckiest shot of the event, shooting his ball (the other having been pegged out) from corner 2 at Chapman's balls near corner 4 hit close to centre peg and bounced beautifully over to perfectly pioneer hoop 1.
Scores at the end of day 2 were; Maugham 7/7, Fulford 5/7, Chapman 5/8 with the rest of the field back on 2 or 3.
As normal Day 3 started with round 9 rather with the pegged down games to be finished at the end of the day if possible. Fulford beat Maugham to peg Maugham back to just one win ahead.
Round 10 saw lucky escapes for Maugham and Chapman. Maugham played Wicks. Wicks had made the unusual choice of taking his first ball to rover. Maugham failed to capitalise from his lift to position and Wicks was able to establish and second break, get his rover peel but then failed 4b. From there Maugham won with the aid of a peg out.
Chapman TPOed Hopgood, but having played well to almost establish his winning break failed a slightly long 2back giving a straight forward chance for his own three ball break. Hopgood managed to get in a position after 3b so he could only take off to 4b and ended up failing penult. Chapman got control gain a won with a two ball break from 3-back.
Maugham beat Mulliner early in round 11, with Fulford playing Chapman. Chapman took on a TPO which needed a longish death roll peel going to 3b, but once completed allowed him to peg two balls out leaving himself for 1back versus 1. Chapman won the two ball comfortably with another two ball break out from 3-back.
Saturday finished with an easy win for Fulford over Dawson, but Chapman lost -5 to Wicks after missing a hampered stroke at 4-back with two peels done.
Darkness brought Maugham and Hopgood's game to a stop, with Maugham in a strong position on 4b and peg.
Sunday started with wins for Fulford and Maugham, with Chapman still in pay against Dawson. There was time for Maugham's game with Hopgood to resume and Maugham soon finished which eliminated Chapman from contention. As it was Chapman lost to Dawson who was aided by hitting a do or die 30 yard shot.
This now left Maugham needing just one more win or a loss for Fulford, either in round 14 or in each of their pegged down games which you may remember they were both losing.
Fulford beat Hopgood while Maugham was taking on Chapman. Maugham pegged out Chapman, but after going out on a long take off to partner in corner 1 was unlucky to happen to give Chapman to lift, after which Chapman finished.
With Maugham waiting for Dawson's game to finish so they could resume their pegged down game, Fulford resumed against Mulliner. Mulliner immediately hit a sweaty 11 yarder which allowed him to get to peg alone and Fulford missed his 18 yarder. Mulliner won the game and Maugham won the President's Cup.
Hopgood finished on 6, Avery and Dawson on 5 so not much for Mac selectors to work on.
Results
Stephen Mulliner bt Robert Fulford +19
James Hopgood bt Jack Wicks +26tp
David Maugham bt Jeff Dawson +8
Paddy Chapman bt Mark Avery +10tpo
David Maugham bt Mark Avery +24
Paddy Chapman bt Jeff Dawson +18tp
Robert Fulford bt Jack Wicks +26tp
Stephen Mulliner bt James Hopgood +25tp
Jeff Dawson bt James Hopgood +20
Robert Fulford bt Mark Avery +18
Paddy Chapman bt Stephen Mulliner +10
David Maugham bt Jack Wicks +25
Robert Fulford bt Paddy Chapman +19
David Maugham bt James Hopgood +23
Jack Wicks bt Jeff Dawson +5
Mark Avery bt Stephen Mulliner +14
Mark Avery bt Jack Wicks +9
Stephen Mulliner bt Jeff Dawson +24tp
David Maugham bt Robert Fulford +1
James Hopgood bt Paddy Chapman +10
David Maugham bt Stephen Mulliner +14
Paddy Chapman bt Jack Wicks +24tp
Mark Avery bt James Hopgood +5
Robert Fulford bt Jeff Dawson +20tp
Jeff Dawson bt Mark Avery +13
Robert Fulford bt James Hopgood +17tp
Jack Wicks bt Stephen Mulliner +2
David Maugham bt Paddy Chapman +21tp
James Hopgood bt Jack Wicks +19tp
Jeff Dawson bt David Maugham +12
Paddy Chapman bt Mark Avery +12tpo
Stephen Mulliner bt Robert Fulford +16
Robert Fulford bt David Maugham +22tp
Paddy Chapman bt Stephen Mulliner +17
James Hopgood bt Jeff Dawson +18
Mark Avery bt Jack Wicks +22
Paddy Chapman bt James Hopgood +3tpo
David Maugham bt Jack Wicks +4
Robert Fulford bt Mark Avery +16
Stephen Mulliner bt Jeff Dawson +4
Jack Wicks bt Jeff Dawson +25
James Hopgood bt Mark Avery +17
David Maugham bt Stephen Mulliner +23
Paddy Chapman bt Robert Fulford +9tpo
Mark Avery bt Stephen Mulliner +14
Robert Fulford bt Jeff Dawson +25tp
Jack Wicks bt Paddy Chapman +5
David Maugham bt James Hopgood +18
Jeff Dawson bt Paddy Chapman +7
David Maugham bt Mark Avery +23
James Hopgood bt Stephen Mulliner +25
Robert Fulford bt Jack Wicks +20tp
Robert Fulford bt James Hopgood +17
Stephen Mulliner bt Jack Wicks +24tp
Paddy Chapman bt David Maugham +14
Jeff Dawson bt Mark Avery +4
| | | |
| --- | --- | --- |
| | Wins | Pos |
| David Maugham | 11 | 1 |
| Robert Fulford | 10 | 2 |
| Paddy Chapman | 9 | 3 |
| James Hopgood | 6 | 4 |
| Stephen Mulliner | 6 | 4 |
| Mark Avery | 5 | 6 |
| Jeff Dawson | 5 | 6 |
| Jack Wicks | 4 | 8 |
---