Chairman's Salver Results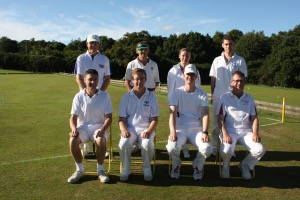 Chairman's Salver Players
by Mark Ormerod at Hamptworth CC
11 Sep 2016 (
AC
)
The elements conspired to prevent the completion of the Chairman's Salver Eight this year. Fast lawns and rock solid hoops ensured extended games and a dearth of triples in the first series, whilst the loss of 6 hours playing time on the Saturday (due to prolonged rain making the courts unplayable) further compressed the schedule. However, by 8.00pm on the final day, the 54th of the 56 scheduled games was completed in the semi-darkness, the hoots of an owl echoing down Hamptworth valley as David Goacher triumphantly pegged out +1.
Ian Lines, Christian Carter, and Robert Wilkinson led the field at the end of the first series with seven wins apiece, followed by Duncan Reeve, Chris Williams and David Goacher, with Gabrielle Higgins and Mark Ormerod holding the wooden spoon. The second series followed a similar pattern, though the number of pegged down and unplayed games muddied the waters.
By later afternoon on the final day, Ian was looking favourite, needing to win his outstanding round 12 game to claim the Salver. However, his opponent, Gabrielle, had other ideas, and under the scrutiny of a small but appreciative audience (including our Chairman Tim King and William Ormerod, both enjoying the early evening sun, having sampled the excellent local ales) won the game +23tp. This meant that Ian and Christian were declared joint winners, there being no time for a playoff. Warm thanks to Jerry Wilde and Hamptworth Club for hosting the event.
Results Summary
1= Ian Lines (10 wins, 4 losses)
1= Christian Carter (10 wins, 4 losses)
3= Duncan Reeve (8 wins, 6 losses)
3= Robert Wilkinson (8 wins, 6 losses)
5. David Goacher (7 wins, 6 losses, 1 unplayed)
6. Chris Williams (6 wins, 8 losses)
7. Mark Ormerod (3 wins, 9 losses, 1 pegged down, 1 unplayed)
8. Gabrielle Higgins (2 wins, 11 losses, 1 pegged down)
---