Jonathan Powe Won the Treasurer's Tankard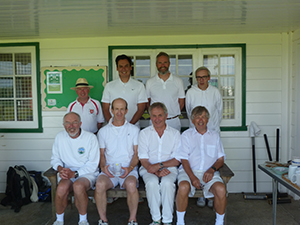 The Treasurer's Tankard Players
by Martin Murray at Ryde
12 Sep 2016 (
AC - Championships
)
The eight original selections (no withdrawals, no promotions) turned up at Ryde for the 2016 Treasurer's Tankard. Three were new to the Eights (Jonathan Powe, Leo Hawkins, and Andrew Willis), two (Martin Murray and Ian Vincent) were veterans, and the remaining three (Nigel Polhill, James Hawkins, and Campbell Morrison) were regular Eights contestants. With conditions fairly easy (flat, slowish lawns, but firmly set hoops), and fine weather, except for a rainy Saturday, play proceeded at a pace just manageable for the programme. Only two games had to be pegged down over the five days, but time was soon found to finish them off.
Ian Vincent went into an early lead with three wins on the first day, but fell back on the second day. Jonathan Powe then established himself as the man to beat, with a consistent display of controlled croquet. No-one else managed to match his consistency, although a challenge was maintained by Campbell Morrison, who was only one game behind going into the final round. But another steady win for Jonathan secured his title, and Campbell lost his last game to make the final margin as convincing as Jonathan deserved.
Jonathan's rapid improvement over just two years is a tribute to a calm, studied approach to the game, coupled with a basically sound technique. Nerves appear not to trouble him, and he is learning so rapidly that minor tactical weaknesses will soon be overcome.
The two other newcomers, Leo and Andrew, fought valiantly to avoid the wooden spoon, Andrew just succeeding in his final game, but lack of experience let both down repeatedly, particularly in end games. Both showed promise, however, and should have bright futures.
A total of six triple peels (including one tpo), three from James Hawkins, was probably a fair indication of the general standard of play. Too many random errors, often in easy positions, showed why the contestants weren't selected for higher events.
Finally, the hospitality of the Ryde was excellent, as previous visitors have experienced. All eight players were delighted with both the catering and the general hospitality. Many thanks to Roy, Vernon, and the band of caterers who made the five days so memorable.
---