James Hopgood Won the South of England Championship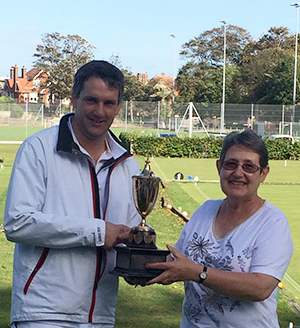 James Hopgood receives the Championship of the South trophy (Photo: Alison Girdlestone)
by Phil Cordingley at Compton Croquet Club
23-25 September 2016 (
AC - Championships
)
A full house of 20 players entered this year's championship encouraged, no doubt, by chairman of selectors Ian Lines's earlier announcement that the player to fill the sixth and final team place to represent England in the forthcoming MacRobertson Shield series (to be held in the USA in 2017 April) would only be decided after the South of England Championship. Ian entered the tournament for the first time to monitor the performance of hopefuls. The sun shone on Friday and Saturday but intermittent drizzle dampened Sunday morning.
James Hopgood set out his stall early on Friday morning with a +25(TP) win over David Maugham to take the North of England Championship, his first regional title. James and David had arrived at two games all in the final at Bowdon in August with no time for the decider - so it was arranged to complete the match in Eastbourne. The trophies for winner and runner-up were duly presented on Sunday afternoon.
Most of the games in the first two rounds were completed on Friday with just two matches pegged down in their third games. Even with the hoops newly set to 1/32nd-inch and very firm in fresh ground there was plenty of peeling. In his first game against David >Maugham Christian Carter peeled and pegged David's 3-back ball but a very weak leave allowed David to finish from the contact in the next turn. More spectacularly Gavin Carter, having sealed his win against Debbie Lines with a triple, impressed in the next round with a delayed sextuple in his first game against Mark Avery, +26sxp, and then promptly repeated the exploit in the second - peeling prize assured! Gavin was unlucky not to add another sextuple to his haul: against David Maugham he completed all six peels but at rover the peelee didn't touch the sides of the hoop and went off the boundary. His steady play earned him a well deserved place in the final. Meanwhile James Hopgood was making equally steady progress to the same goal beating Ian Lines, Ed Duckworth and Jack Wicks with only one game lost.
However some of Gavin's flair deserted him in the final. Despite an exemplary break to 3-back from a contact leave in the first, begun by approaching hoop 1 from corner 4 and characterised by exceptionally accurate rushing, he was unable to regain the innings and James finished with a triple. In the second James was again first to 4-back. Gavin made hoop 1 but missed a long return roquet and James's winning triple had all three peels before 3-back. In the third and longest game Gavin made the first break, contemplated a 1-back leave but was not happy and continued to 4-back. After some sparring and an unexpected short miss into C3 by James, Gavin began a peeling turn but broke down at hoop 6 after jawsing the 4-back peel. James peeled and pegged Gavin's ball. Later James's potentially finishing turn ended when he stuck in rover. Some more sparring during which James pegged out his forward ball and Gavin ran hoop 6, James ran rover and eventually pegged out to take his second regional championship in 3 days and a handicap reduction to -2.5.
The plate event was played as a Swiss for the first two days and then a deciding knockout for the eight players with the highest percentage wins for the weekend. Jamie Burch playing with his usual fluid style emerged the easy winner with two triples having conceded just 16 points. Phil Cordingley was the worthy runner up and his efforts for the weekend earned him a handicap reduction to -1.
As ever Tim and Hilary Smith kept everyone well fed - the fruit crumbles were specially appreciated - and the Compton ladies revived flagging players with delicious cakes and scones. Again thanks to John Crisford for the excellent condition of the lawns.
Results:
Championship (for the O'Callaghan Gold Cup)
David Maugham

David Maugham
+16tp +26

David Maugham
+13oqp +9tp

Gavin Carter
+26 +18

James Hopgood
+18tp +25tp +7

Cliff Jones
Gabrielle Higgins

Gabrielle Higgins
+23 +16

Christian Carter
+24 +26tp

Phil Cordingley
Dave Trimmer

Christian Carter
+21tp +19tp

Christian Carter
Gavin Carter

Gavin Carter
-15 +9tp +15tp

Gavin Carter
+26sxp +26sxp

Debbie Lines
Nigel Polhill

Mark Avery
+25tp -18 +12tp

Mark Avery
James Hopgood

James Hopgood
+13tpo -14tp +2

James Hopgood
+26tp +14

James Hopgood
+26 +5otp

Ian Lines
Richard H Smith

Ed Duckworth
+24tp +25tp

Ed Duckworth
Jack Wicks

Jack Wicks
+7tp +26tp

Jack Wicks
+26 +25

Jack Wicks
+13 +26tp

Robert Wilkinson
Sam Murray

Sam Murray
+6 +26

Alison Girdlestone
Mark Ormerod

Jamie Burch
+26tp -17tp +26tp

Jamie Burch
Consolation Event - Swiss, top 8 qualified for KO:
Phil Cordingley

Phil Cordingley
+15

Phil Cordingley
+26tp

Jamie Burch
+25tp

Dave Trimmer
Ed Duckworth

Ed Duckworth
+17

Mark Ormerod
Debbie Lines

Debbie Lines
+26

Jamie Burch
+25

Robert Wilkinson
Jamie Burch

Jamie Burch
+12tpo

Ian Lines
Peeling Prize
Gavin Carter - Runner up Jamie Burch
---