Tony Elliot representing Enfield won the 2016 All England AC Handicap Final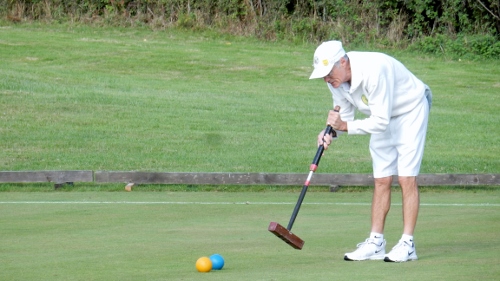 Tony in play on court 1 at Hamptworth. (Photo: Peter Wilson)
by Peter Wilson at Hamptworth
18th September 2016 (
AC - Handicap
)
Runner up: Stephen Stuart-Matthews.
At the end of round four the Swiss format had declared a winner. Therefore, by agreement, lunch was extended and the final round was shortened to 18 point games allowing extra time for the return trips across the country.
Many, if not most of the games, were very exciting and close. With handicaps ranging from 1 to 20 all sorts of challenges were created.
Tony played exceptionally well throughout the tournament and ended with 5/5. His fourth round game versus Will was decisive and decided on the time turn. Had that gone the other way the tournament would have been wide open in the final round.
The trophy and tray were presented by Quiller who thanked Hamptworth for the provision of single banking and ideal hoops, lawns and weather.
The finalists were:
Bury; Phil Nuttall
Bowdon; Will Mellor
Enfield; Tony Elliott
Guildford and Godalming; Stephen Stuart-Matthews
Wrest Park; John Bevington
Watford; Wendy Spencer-Smith
Camerton & Peasedown; Mo Boys
Kington Langley; Ian Wills
Many thanks to them for exemplary sportsmanship throughout and to their clubs for supporting this tournament.
---