Leighton Linslade beat Guildford 4-3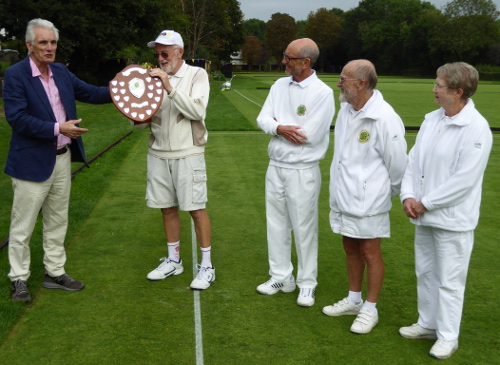 John Cundell of Leighton Linslade taking the trophy from John Bowcott, Tournament Director (Photo: Tom Miller)
by John Cundell at Surbiton CC
20 Sep 2016 (
GC - Inter-Club Shield
)
he final between Leighton-Linslade and Guildford and Godalming was played at Surbiton CC on a fine, dry, calm autumn day. The two teams were closely matched in handicaps and the day's play was similarly close. The doubles match was the best of three games with G&G taking the first game with some excellent positioning. LL fought back in game two and then dominated game three - therefore winning the doubles. In the two morning singles these were shared with a win by G&G's Mark Godfrey James and LL's Ross Bagni, therefore at lunch LL were leading by two wins to one.
The afternoon session of four singles started with wins for G&G by Mark Godfrey James and Andrea Huxley - both winning within two games. The fight continued with LL's David Ball against Mike Huxley and LL's John Cundell against Alan Miles. David and Mike's games were initially well balanced, however after some excellent battles David managed two wins, both at 7-4.
Alan Miles had come back from 4-6 down to win the first game against John Cundell on the 13th hoop. Game two had gone to John at 7-5. The third game and tournament decider between John and Alan was watched by remaining competitors and a group of six LL supporters who had made the journey to Surbiton. John moved into a 6-4 lead, however as in their first game, Alan Miles fought back to take hoops 11 and 12. John managed to run a very long ball to gain an advantageous position at the 13th hoop and Alan was unfortunate in that John was also in a position to despatch Alan's clearance ball to the far side of the lawn. Alan's return just missed clearing John, who then ran the hoop to seal a win for Leighton-Linslade by four games to three.
A good day's croquet that was played in a very sociable and sportsmanlike atmosphere. This was a jubilant win for Leighton-Linslade CC, being our first team win in a CA National Tournament.
The presentation of the trophy was made by Tournament Director John Bowcott to Leighton-Linslade CC.
Both teams thanked Surbiton for providing two excellent lawns and fine hospitality.
Teams
Leighton-Linslade
David Ball (2), John Cundell (3), Ross Bagni (3), Jean Ball (4)
Guildford & Godalming
Mike Huxley (3), Alan Miles (3), Mark Godfrey James (3), Andrea Huxley (3)
Results
(Leighton-Linslade names first)
1. David Ball and John Cundell beat Mike Huxley and Alan Miles 5-7, 7-5, 7-1
2. Ross Bagni beat Andrea Huxley 7-5, 7-6
3. Jean Ball lost to Mark Godfrey James 5-7, 4-7
4. David Ball beat Mike Huxley 7-4, 7-4
5. John Cundell beat Alan Miles 6-7, 7-5, 7-6
6. Ross Bagni lost to Mark Godfrey James 5-7, 5-7
7. Jean Ball lost to Andrea Huxley 5-7, 6-7
---