Ian Burridge Won the English National Singles GC Championship (Ascot Cup)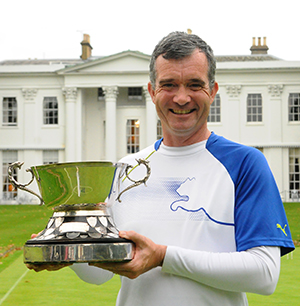 Ian Burridge, Winner of the Ascot Cup (Photo: Chris Roberts)
by Rachel Rowe at Hurlingham
18th September 2016 (
GC - Championships
)
A 16 strong field of players assembled at Hurlingham for the English National Singles Championship, comprised of winners, finalists and losing semi-finalists from qualifying tournaments across the country.
Saturday's block play comprised 3 best of three matches, and despite a chilly 10am start all play was in fine weather, and finished well before sunset.
Some excellent play from the lower seeds in several blocks caused a few upsets. Nick Cheyne beat Rachel Rowe to the take 2nd qualifying place in Block B and Block D had a 3 way tie for 2nd place! The 2nd seed in the block, Ian Burridge, had won all of his 3 matches, and the remaining 3 players had all won one match. Chris Roberts pipped Pierre Beaudry and Mark Daley for the remaining qualifying spot.
All matches in the first round of Sunday's knock-out went to the full three games. In the bottom half of the draw, recently crowned Doubles champions Tobi Savage and John Paul Moberly were pitted against each other, with JP prevailing for the privilege of playing Ian in the semis. Nick Cheyne continued his good form to beat Lionel for a place in the semis v Stephen Mulliner.
Most players now took the opportunity to enjoy the tasty Hurlingham Sunday BBQ lunch on the terrace. There must have been something in the food, as both semi-finals were pretty snappy; both finished in 2 games - leaving Ian v Stephen as the finalists for this year's Ascot.
Meanwhile, the growing crowd were enjoying the remaining plate and consolation games. Tobi's hard hitting tended to draw the largest crowd wherever he was in action, with the 5/6th play-off v Lionel having more spectators than the first game of the final! JP won the 3rd/4th play-off with a tight 10-9 victory over Nick and Pierre Beaudry beat David Bell 10-8 in the final of the Plate.
Thanks to JP, who was able to set up live streaming for the final. Ian and Stephen traded hoops in the first game of the final, only broken when Ian ran 11 down to 12. The 2nd game was rather different; Ian took a very early lead, going 4-0 up. Stephen dug his heels in to get back to 4-3, but Ian quickly widened the gap again, and won the 2nd game with the same 7-5 scoreline.
---