Betty Bates Won the Northampton Autumn Handicap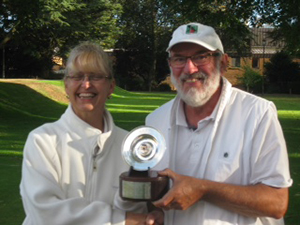 Manager Mike Hills presenting the trophy to winner Betty Bates from Fylde.
by Sam Murray at Northampton
25 Sep 2016 (
AC - Handicap
)
Eleven players took part this year including six visitors from around the Country.
Despite the slow, damp conditions most games were completed within three hours and at the end of the first day three players, Betty Bates (Fylde), Joe Lennon from Scotland and Northampton player, Mel Christie, were undefeated.
The weather was kind to us with overnight rain clearing for the final day. This saw Betty and Joe continuing their good form and remaining unbeaten. They met in an evenly matched final which went to time with Betty winning 21-16.
---