Geoffrey Johnson Won the Surbiton Advanced Handicap (the ARK)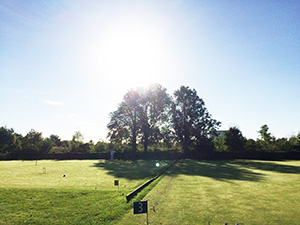 End of Season Sun at the ARK. (Photo: Sam Murray)
by Martin Burger at Surbiton
8th November 2016 (
AC - Handicap
)
The ARK tournament (9th-10th October) was played in mainly fine weather , though with a few short sharp showers . The courts played at a comfortable speed though with persisting dew. With a number of late withdrawals and late requests we had the full 28 for the seven courts .
After a friendly on Friday ,several players from the Meadows , Edinburgh, remained to play and were given plenty of opportunity to mix with the more local players. The A-class frequently finished games quickly with peeling one side or another ,TPs OTPs and TPOs. Of the players on positive handicaps , Alan Wilson and Alison Girdlestone each achieved a TP. Mark Suter fitted seven games in and only lost one . After the first day there were 3 players with completed games unbeaten - Andy Dibben (3/3) , Geoffrey Johnson and Ron Benson and two more (David Houston and Mark Suter) in a pegged down game which aimed to restart, optimisticallyat 8:30 . So one player was held back awaiting this. The pegged down game finished next turn , but the two resulting games were among the few that went to time , so there was only going to be time for an effective play-off .
This was between Geoffrey and Andy and proved to be well contested with Andy trying to establish a break to box on the time turn (for a two hoop lead - no contact) ,and having achieved a number of difficult shots such as roll up to 1-back from near corner 2, misapproached 2-back from relatively close, so Geoffrey won.
As usual the Surbiton lunches were much appreciated.
---