John Wheeler has died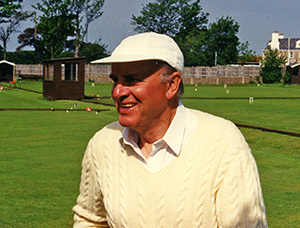 by John Bevington
9th January 2017 (
Other News
)
John Wheeler, a pillar of the Wrest Park club for over forty years, died on the 31st December 2016. There will be a memorial service at St James Church, Silsoe, on Tuesday 7th February at 12 pm.
John started playing croquet soon after the club was formed in 1961 and within a few years was entering and winning CA tournaments. His heyday was during the 1970s when he was twice runner-up in the Open Doubles, played in Wrest Park's winning Inter Club team in 1974 and was also part of the Bedfordshire team that tied for the Inter Counties title in 1976 and won it outright the following year. He played in the Chairman's Salver in 1975 and the Spencer Ell in 1973, 1974 and 1976. He later played a part in winning the Inter Counties Division 2 title in 1999 and the Mary Rose in 2002 and again in 2004. His play was characterised by good shooting, accurate break play and a sound grasp of tactics, the last being particularly appreciated by his many doubles partners over the years.
John's achievements on the playing side were more than matched by what he did on the non-playing side - indeed, he, Vic Rees and Harry Green were primarily responsible for Wrest Park evolving from its early beginnings to an established club with a full tournament programme attracting the best players of the day. John's practical skills covered everything from making hoops, building and fitting out the old pavilion and changing room, and maintaining the mowers and other machinery. For many years he cut six lawns every week with Pandora's help, and he also organised all the other activities associated with maintaining the lawns, from trailers to take away the mowings to deliveries of top-dressing and the hire of machinery to spread it, as well as arranging contractors for hollow-tining and overseeding.
The news that the club would have to move from its old site in the gardens was hard to take, but it was not long before John came to appreciate the many advantages, not the least of which was being able to park within yards of the lawns. Although no longer playing he would still volunteer for catering duties at tournaments and watch the play with glass of wine in hand, and it must have been a source of satisfaction for him to have witnessed the first triple peel on the new lawns (by Mark Avery during an Inter Club match against Colchester in 2014) and see that the club he had done so much to develop was renewing itself in new surroundings.
---