Chris Coull Won the Surbiton Easter Handicap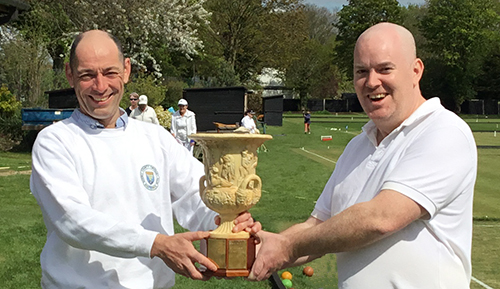 Chris Coull is presented with the Llewelyn Williams Urn by Sam Murray (Photo: Caroline Denny)
by Sam Murray at Surbiton
15 Apr 2017 (
AC - Handicap
)
Players with a good range of handicaps (16 to -1.5), and from a variety of clubs, gathered to contest the Surbiton Easter handicap tournament.
The lawns were in very good condition, running at impressive speeds for mid-April, of 10.5 to 11.5 Plummers. The weather was cool but dry.
The tournament was run as a flexible Swiss, and Chris Coull of Sussex (6 handicap), made the early running. He disposed of each potential challenger in turn, and dashed off early to fulfil a trumpeting commitment, with a record of 6/6, conceding just 20 hoops in the process. He was duly declared the winner, and rewarded with a handicap cut to 4.
Our thanks to the caterers, and to George Noble for preparing and setting excellent lawns.
---