Mark Avery Wins the Surbiton Easter Open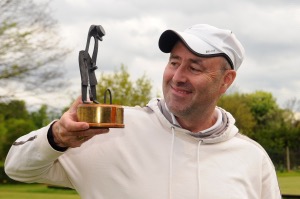 Mark Avery Wins the Surbiton Easter Open (Photo: Chris Roberts)
by Kevin Carter at Surbiton
16-17 April 2017 (
AC
)
Mark Avery was in imperious form for the Surbiton Easter Open (16th-17th
Apr), winning 7/7 with six TPs.
While some of the usual big guns - Patel, Burch, et al - were sunning
themselves in California, the competition was still intense, with Carter
(Christian, not the other one), Cordingley, Myers, Noble, Ormerod,
Parish, Murray (Sam), Taylor (Joel), Town, Wilkinson, etc. all wanting
to topple the favourite. In the end, many of these proved to be a tad
rusty, and second place went to Sam Murray, who beat everybody but
Avery, and in third place was Campbell Morrison, ditto.
The courts were as fast as they would be in July and the temperature was
typical for December.
---