Stephen Custance-Baker won the Barter Cup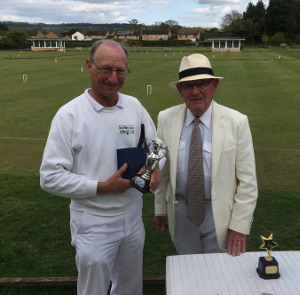 Stephen and Russell
by Russell Barter at Cheltenham
24th April 2017 (
GC
)
It was the fourth year of the Barter Cup attended by 17 entrants, managed by Kevin Ham who had two blocks one of 8 and one of 9.
Won by Stephen Custance-Baker -1(Taunton Dean) & runner up Ivor Brand -1(Worcester Norton).
In a preliminary round, Stephen was on the line so put his blue ball a yard in then his black ball promoted blue to the hoop, which he eventually won. Good tactics!
In the 1st game of the final, all level at hoop 12, Stephen had two poor shots to 13 but did get into a jump position but the jump missed so first blood to Ivor.
In the 2nd. game both had too many blobs, which you do not expect from two -1 players. Stephen had a lovely shot to the 4th. At the 6th, Ivor had a ball in a jumping position so he did a beauty. At the 11th. Ivor did a perfect stop shot to leave Yellow in a running position Stephen cleared it. So it only left Stephen to win the 2nd. Match.
Stephen Started the 3rd game well, running 1, 2, & 4. There were no blobs in this match as expected. Stephen jumped 7, tried a jump at 11 and missed so it was on to hoop 12 with Stephen only needing this hoop to win the Cup. Ivor had to win this to go on to 13 (Golden Hoop). A grand tussle around 12 but finally Stephen succeeded. I expected some hard hitting, like the Egyptians, from the competitors but only Tim King, Dave Kibble, Andrew Cowing obliged. I am sure that if we played GC like the Egyptians then spectators would come to watch
---