MacRobertson Shield Day 6: England trail USA 1-2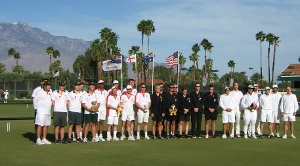 The teams for the second Macrobertson Shield tests. (Photo: Ian Vincent)
by Dr Ian Vincent at Mission Hills
25th April 2017 (
The MacRobertson Shield
)
Hopefully refreshed after the rest day (for those not involved in the WCF AC Laws Committee meeting), the circus re-assembled for a photo-call at 8am, prior to the start of the second pair of tests. The two leaders, Australia and New Zealand, play each other, as do USA and England, who are currently last. With each of the tests, the first day is doubles for both matches.
The England pairings were unchanged, but the USA have substituted Matthew Essick for Stephen Morgan. He proved to be an excellent partner for Danny Huneycutt, as they beat David Maugham and James Hopgood +26tp(H) +26tp(H), reportedly without the English pair taking croquet. Ben Rothaman and David Maloof also beat Stephen Mulliner and Samir Patel +17 -6 +26, in a rare match with no peels recorded, so it was left to James Death and Jamie Burch to salvage one point from the day by beating Jeff Soo and Stewart Lawrence +18tp(B) +26tp(B).
The other match ended 2-1 to Australia.
It was a cooler day, but I don't know how far wind affected play as I had headed for the hills, only to return to find something of a sandstorm. However, I gather it is forecast to get hot again soon.
This will be the last report from me, as I head home tomorrow, so you may have to follow our team's progress on Croquet Scores. Many thanks to Mission Hills and the USCA for their excellent organisation and hospitality: the cookies were great!
---