Ian Lines won the 13th Lancashire International Open Golf Croquet Championship (31 March & 1 April)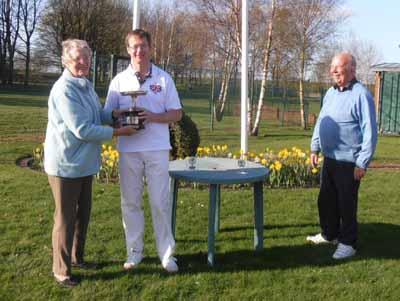 by Geoff Young
1st April 2012 (
GC - Championships
)
Another great very early season curtain raiser as 18 contenders met yet again in the sort of weather we're getting used to at this event - mild spring sunshine.
He's back to his best - Who? Our 2010 winner, Ian Lines, who couldn't defend the title last year due to injury, but no such problems this year as he marched through the strongest entry field ever to regain the title in yet another thrilling three-game final, coming back from being a game down against Paddy Chapman.
Ian, Paddy, Rutger and James were all using this event to shake of the winter blues prior to entering the Worlds down in Australia in three weeks - good luck to all.
The consolation doubles was taken by Ros Pimlott and Debbie Cornelius (Debbie's first trophy since 1995!).
Hosted by Bury CC.
Mangaged by Bury member Geoff Young.
Bury Club Chairman Barbara Young presented the Trophies.
Quarter-finals
Semi-finals
Final
Champion
Paddy Chapman

Chapman
7-2, 5-7, 7-5

Chapman
6-7, 7-6, 7-6

Lines
5-7, 7-4, 7-6

Ryan Cabble
James Hopgood

Hopgood
7-4, 7-4

Bob Connop
Ian Lines

Lines
7-4, 4-7, 7-3

Lines
7-6, 7-6

Lionel Tibble
Paul Rigge

Beijderwellen
7-5, 6-7, 7-2

Rutger Beijderwellen
---