David Walters won the 16th Lancashire International Open Golf Croquet Championship (11 & 12 April)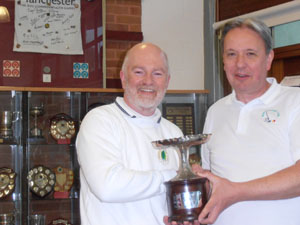 by Paul Rigge
12th April 2015 (
GC - Championships
)
With only 13 players this year daring to face Manchester's weather this early in the season, we should have expected floods and the apocalypse, but we got a dry and sunny Saturday and a quick cold shower on Sunday. More should have entered this Ascot Cup Qualifier.
Heaton Park, what can we report? Well, because the Facility Club House had been booked by another organisation, we didn't have morning main hut access but, after the tool shed spring clean, normal breakfast service was available from within that. It was also quite intimate and cosy for the Manager's briefing with everyone in there.
The playing surface outside continues to decline, lumps and bumps, tuffs and moss augmented the holes this year. Sad to see, but on a plus note Croquet is being played on it's 2014 Commonwealth built Bowls Facility in Glasgow.
The players this time were all in a single block, all play all, un-timed 13-point games with the top four qualifying for the Championship knockout (best of three). A ranked consolation KO was available for those who failed to qualify.
All played nine games by home time on the first day, with the balance completed Sunday morning. Although a few did want to leave earlier due to tired legs! (One pedometer reported 10.5 miles covered, but I don't believe it.)
The four highest ranked players were true to form and qualified for the KO which started an hour before lunch, with the final being fought by the two highest. Could James retain the trophy for a second year? Err, No. He fell in two to the 2009 champion, David Walters.
The Consolation Singles KO title was won by Jane Pringle after a cracking match with Kath Wright.
Hosted by Bury CC.
Managed by Paul Rigge.
Bury Chair Paul Kenworthy presented the Trophy to David Walters.
Championship Knockout
Semi-finals
Final
Champion
James Hopgood

Hopgood
7-2, 4-7, 7-2

Walters
7-2, 7-4

Paul Rigge
Ray Mounfield

Walters
7-3, 7-4

David Walters
Consolation Knockout
Quarter-finals
Semi-finals
Final
Champion
Ken Eccles

Eccles
7-3

Wright
7-2

Pringle
7-6

Ros Pimlott
Bob Connop

Wright
7-3

Kath Wright
Graham Good

Pringle
7-5

Jane Pringle
---