Mark Suter won the Inaugural Bernard Neal Trophy at Cheltenham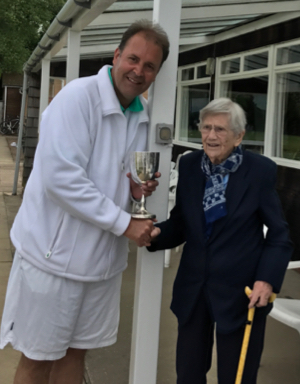 Mark Suter Accepting The Bernard Neal Challenge Trophy From Liz Neal
by Chris Williams at Cheltenham
18th May 2017 (
AC
)
Mark Suter won the inaugural Bernard Neal Trophy at the Cheltenham May weekend and in the process qualified for a CA Silver Medal. Mark defeated Dave Kibble in the final and was unlucky not to complete a fifth turn triple.
The plate was divided into two Egyptians and Peter Moore and Tony Forbes were the two winners.
The history books show that this was Mark's first tournament appearance at Cheltenham for nearly 30 years. It was appropriate that Bernard's widow Liz Neal presented the trophy and subsequent analysis of Mark's ranking record shows that his first opponent in his first tournament (Roehampton in 1987) was Bernard Neal.
The Cheltenham May weekend is one of the few events played as a knockout and hence allows players to qualify for a CA Silver Medal. This year there were 34 entrants and so players who reached the semi finals were eligible. Mark was the only one of the four who had not received one before.
Main Event
Round 1
Dave Kibble beat Chris Donovan +10
Chris Williams beat Darryl Whitehead +17
Round 2
Dave Kibble beat Tony Hampson +24
Tony Forbes beat Jane Babbage +3
Richard Williamson beat Ray Meads +22
Peter Francis beat David Foulser +2
Louise Bradforth beat Robert Moss +13
Kevin Carter beat Robin Smith +14
Jon Wolfe beat Klim Seabright +2T
Sarah Hayes beat Clive Goode +10
Mark Suter beat Gerald Wynn +24tp
Nick Saxton beat Robin Burnell +14
Stuart Smith beat Craig Edwards +1T
David Magee beat John Wells +22
Paul Rigge beat Angela Martin +22
Robert G Upton beat Peter Moore +6T
Andrew Wise beat Peter Stone +21
Chris Williams beat Geoffrey Taylor +25tp
Round 3
Dave Kibble beat Tony Forbes +25
Peter Francis beat Richard Williamson +6T
Louise Bradforth beat Kevin Carter +3
Sarah Hayes beat Jon Wolfe +14
Mark Suter beat Nick Saxton +10
Stuart Smith beat David Magee +8
Paul Rigge beat Robert G Upton +23
Chris Williams beat Andrew Wise +24
Quarter-Finals
Dave Kibble beat Peter Francis +19
Sarah Hayes beat Louise Bradforth +20
Mark Suter beat Stuart Smith +22
Chris Williams beat Paul Rigge +6
Semi-Finals
Dave Kibble beat Sarah Hayes +4
Mark Suter beat Chris Williams +23tp
Final
Mark Suter beat Dave Kibble +21
---