Northampton GC Level play tournament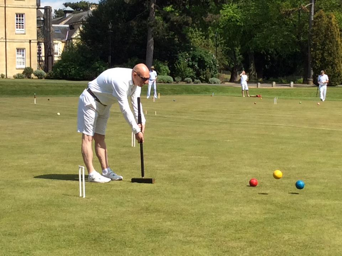 The highly unusually but devastatingly effective style of Pete Dowd
by Lionel Tibble at Northampton
7th May 2017 (
GC
)
On a decidedly chilly Saturday morning players from around the country gathered to contest their skills. This year a 3 man contingent from Dulwich Club comprising Guy Scurfield, Peter Haydon and the indomitable Andrew Dymond, made the journey North whilst last year's winner David Widdison (with supporter) made the trek South.
A couple of late withdrawals reduced the field to allow two blocks to play 19 point games with the top 2 in the blocks playing off in the knock out. With the blocks completed early Sunday morning and with the sun shining yours truly and John Noble progressed through to the semis from block A whilst Pete Dowd and Mike Hills made the qualifiers from block B. So 3 home club players in the play offs.
Meanwhile those unlucky enough to not get through continued to play plate games including the persistent Marilyn Robinson, who had been encouraged to enter as a handicap 6 on the basis that just one win would see her points positive. And she came very close to taking a 13 point game away from Les Heard, narrowly losing 7 - 6.
A closely contested quarter final between John Noble and Pete Dowd saw Pete go through to the final in 3 games whilst Mike Hills narrowly lost 2 games to Tibble, both 7 - 6.
Tibble managed to win the final in 2 games and secured the title for 2017 happily managing to do so without dropping a game through the weekend.
Good croquet, good catering, and most of all a relaxed and friendly atmosphere, nothing could be better.
Thanks you everyone who took part for making it so and to all the unsung heroes working behind the scenes.
---