AC Inter-County Championship - Nottingham won Division 1, Glamorgan won Division 2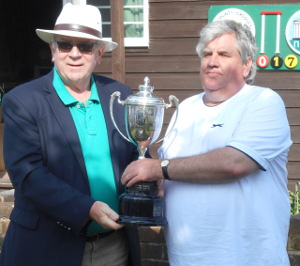 Captain of Nottinghamshire, Richard White receives the trophy from Jonathan Isaacs, CA Vice-Presiden (Photo: Sue Mackay)
by Chris Williams & Sue Mackay at Sussex County and Compton
5 Jun 2017 (
AC - Championships
)
Nottinghamshire won the 103rd AC Inter County Championships, retaining the trophy they won last year. Their team of Richard White (c), Keith Aiton, Martin Beacon, Miranda Chapman, Paddy Chapman, James Death, James Hopgood, Patrick Hort and Richard Huxley looked to have the title secured by the end of the third day, when they were unbeaten on 8 match wins. However, on the final morning their first match was against Somerset, one of three teams on 6 wins. James Death and Patrick Hort had a fairly swift TP win against Marcus Evans and Roger Tribe, but Keith Aiton and Richard White had a lengthy end game tussle against Kristian Chambers and Jim Field, which Somerset eventually won, thanks to some superb hitting in by Kristian. Somerset won the decider, giving them 7 wins. Surrey lost, to remain on 6 wins, and although Middlesex won to put them on 7, they had a bye in the last round. Somerset needed to win their last match against Gloucestershire, which they did, but they also needed Nottinghamshire to lose. A convincing 3-0 win against Lancashire, however, allowed Nottinghamshire to finish as champions yet again with 9 match wins, with Somerset as runners-up on 8 wins.
The Second Division title was won by Glamorgan. Their team of Chris Williams (c), Kevin Ham, Tudor Jenkins, Garry McElwain, Sarah Melvin, Richard H. Smith and David Walters owed a debt of gratitude to Wiltshire, who beat the front runners, the Channel Islands, at the end of the third day and then obligingly allowed Glamorgan to beat them 3-0 on the final morning. Richard H. Smith has become something of a talisman for Glamorgan, as the only other time he played for them was in 2014, when they won Division 1! Glamorgan had some very tight matches, losing to the Channel Islands and Sussex when they had chances to win. They looked to be losing in the deciding game against Oxfordshire, when Kevin Ham, who in his own words had been "in wombat mode" throughout the game until the last turn before time, suddenly put together a superb 3-ball break from Hoop 4 to peg out and win.
The Channel Islands and Glamorgan both finished on 8 match wins, but Glamorgan took the title with more game wins. The third promotion place was between Sussex and Suffolk, who were both playing at Compton on the final day. Both finished on 7 wins, but Sussex finished with a better game record to clinch promotion. Any disappointment Suffolk may have felt, however, was totally overshadowed by a most unfortunate incident that occurred right at the end of Suffolk's final game against Oxfordshire, when Martin Leach slipped and fell down the steep bank by Lawn 5 at Compton and broke his fibula. After waiting in vain for an ambulance he was eventually driven to hospital by Hilary Smith, where he was kept overnight for observation. No croquet for six weeks! Croquet can obviously be a dangerous game, as Ailsa Lines broke her ankle after the end of play last year when she stepped awkwardly on a watering outlet at Southwick - this year they were all clearly marked with white circles!
The wooden spoon was won by Shropshire, who did at least have one match win against Dorset. Essex and Yorkshire both struggled in Division 1 and were relegated with 2 wins. There was a bit of a battle for the final relegation place, with Berkshire, Gloucestershire, Cheshire and Hertfordshire all finishing on 4 wins, but Berkshire lost out on game difference.
There seemed to be a large number of 2 and 3 ball finishes this year, which made things exciting for the spectators to watch, and there were some heroic turns after time. In the game between Essex and Gloucestershire Louise Bradforth had reached the peg and Dave Mundy was finishing from 4-back after time, but he overran his partner after penult and cornered rather than risk missing into baulk. Rich Waterman (Essex) was for 1-back and Debbie Lines for 4-back. Rich hit the lift and split as best he could to within 7 yards of the corner ball, hit, rolled up to 1-back and ran a long and very angled hoop. Rich produced shot after heroic shot to get to a straight 4-back peel position but didn't rush it close enough to the hoop. The two-yard peel from straight in front missed, the striker's ball failed to hold position and the hoop was failed.
For once there was virtually no rain at the Counties, and the lawns were looking superb, so thanks are due to the groundsmen at both venues, as well of course as the army of club members setting hoops and laying out equipment. Two unusual equipment issues happened at Southwick on the first morning. First Sarah Hayes (Channel Islands), on Lawn 10, hit the ball so hard that it landed up in the adjacent tennis court, which was locked. Fortunately this game was not double banked and so they swapped to secondary colours until the ball could be retrieved. Then Brian Havill (Hertfordshire) hit hard across the lawn and shattered the peg.
Both Southwick and Compton looked a little different this year. At Southwick a lot of work was done over the winter to level the ground surrounding the lawns, and a retaining wall built between the lower six lawns and the upper five. A rope fence had been erected above this to force people to take a safer walking route, which confused quite a few Counties regulars on Saturday morning. At Compton the clubhouse has been transformed by replacing the wood with white PVC, designed to look as much like the old wooden clubhouse as possible, but with vastly improved windows, allowing much better views of the lawns. The catering at both venues was, as usual, superb. Thanks once again to Chris Williams for managing the tournament, and to all those who help to make the Counties such a wonderful festival of croquet.
The full results for the AC Inter County Championship can be found on Croquet Scores at Inter County Championship
---