Tyneside Midweek Handicap 30th May - 1st June 2017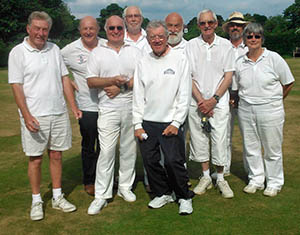 by Derek Watts at Tyneside
1st June 2017 (
AC - Handicap
)
Julian Gibson (16) of Middlesbrough won the Tyneside Midweek Handicap Tournament by winning 6 of 7 games.
Results:
Julian Gibson beat Roger Staples (3) +8t, Derek Johnson (12) +12, John Crompton (16) +1t, David Millener (7) +17t, Phil Errington (1) +14 and Richard Platt (10) +14.
Roger Staples beat Fiona Crompton (14) +10, Derek Johnson +13, David Millener +21 and Richard Platt +13.
Fiona Crompton beat Julian Gibson +1t, Derek Johnson +6t, John Crompton +8t and David Millener +11.
Richard Platt beat Fiona Crompton +7t, Derek Johnson +4t, John Crompton +6t and Phil Errington +7t.
Phil Errington beat Fiona Crompton +3, Roger Staples +6, Derek Johnson +5t and John Crompton +12.
David Millener beat Derek Johnson +6, Phil Errington +19 and Richard Platt +17.
John Crompton beat Roger Staples +1t and David Millener +1t.
Derek Johnson beat John Crompton +4t.
---