National Croquet Day at Keswick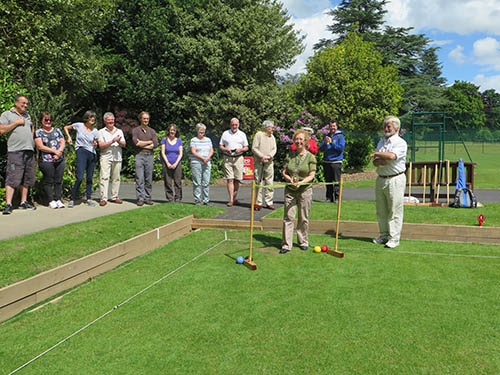 by Ian Hall at Keswick
4th June 2017 (
Other News
)
Keswick Croquet Club, struggling rather with fewer than a dozen members, took the opportunity of the happy coincidence of National Croquet Day and the long-awaited restoration of our lawn on Fitz park, Keswick, to hold a joint taster day and re-opening ceremony. Fitz Park is the natural flood plain for Keswick, and Storm Desmond, December 5th 2015, took full advantage of it to deposit many thousands of tons of silt, many hundreds of uprooted trees, and even the remains of eight mobile homes over the thirty acres of park - much of it on our croquet lawn. We found that even after the mechanical removal of the detritus and the sterling efforts of the Parks staff to restore order, nets, park benches, flower beds and shrubs the croquet lawn was unwilling to resemble anything more than a pond. All those tons of silt had thoroughly blocked the drains, and even seemed to have formed an impermeable layer a foot down.
Restoring the drains and breaking up that layer, and establishing a decent sward, has taken ever since the deluge, and so National Croquet Day, falling eighteen months to the day later, was too good an opportunity to miss. We publicised the joint opening and taster day in the local 'Keswick Reminder' and with the posters provided by the CA and invited the lady Mayor, Councillor Susan Leighton, along to perform the ceremony and join in the golf croquet afternoon. Fortunately the sun smiled upon us, and the small crowd who'd come along to see what it was all about were able to enjoy both the game itself and the social aspect provided by sparkling wine and various canapes laid on by our social secretary Tom Ryan and his wife Gail. We had four games going on our two short lawns, each with a member explaining how to do it and keeping score, and those who played seemed thoroughly to enjoy themselves.
Was it a success? It depends how you define such things. The crowd was small, and liberally laced with friends and well-wishers, and the likely permanent uptake is likely to be tiny - say two or three at most. However, it may establish these two short lawns as a venue for Golf Croquet, and may generate its own following. Existing members are passionate Association players, and have found an alternative excellent full lawn at nearby Braithwaite village, but we have found by experience that it is difficult to introduce new players to AC, so maybe GC at Fitz Park will slowly generate some AC players. Only time will tell.
---