Andrew Fall won PJ's Pot At Guildford and Godalming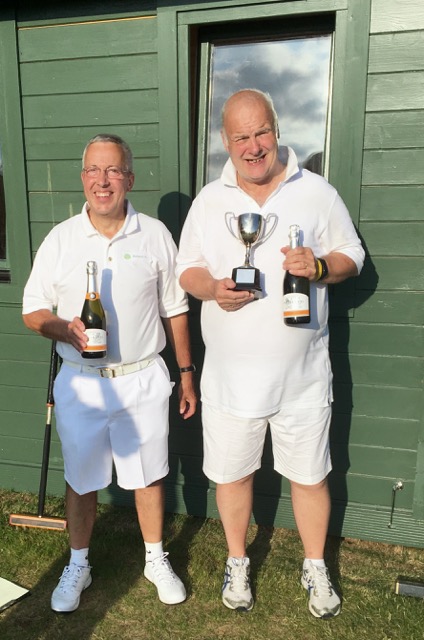 Robert Cook (runner-up) and Andrew Fall (winner) receive their prizes.
by Mike Huxley at Guildford and Godalming
17th June 2017 (
GC
)
The location was Guildford and Godalming, the weather was scorching and the competition was as hot as the weather. The lawns were in prime condition and the new clubhouse was open.
Twelve players, with handicaps ranging from 2 to 11, assembled from as far away as Cambridge for the one-day GC handicap tournament for PJ's Pot. The entrants were split into two all-play-all groups, with the winners of each group to meet in the final. The group results were, as it happened, very different. In the blue group, Robert Cook (Cheam, 5) won all five games to top the group with ease, Richard Jenkins (5, Hamptworth) taking second spot with three wins. The red group, though was very different. Three players ended with three wins each and the rest had two wins. Net points were needed to determine a winner, who turned out to be Andrew Fall (7, Enfield), three net points ahead of Andrea Huxley (3, Guildford and Godalming).
In the 3rd/4th place play-off, Andrea sneaked a win on hoop 13 with a clean shot from 4 to 5 yards that didn't touch the sides. The final showed Andrew at his most dogged. He fought hard for a 3-0 lead, using no extra turns. Robert pegged him back to 4-2, but judicious use of his two extra turns at around the mid-point of the game took Andrew into a 6-2 lead, which he shortly after converted to a 7-2 win.
Congratulations to both players for an absorbing final and to all the competitors for surviving the heatwave!
---