Mystery deepens - what's the point of streaking at a Nudist Championships?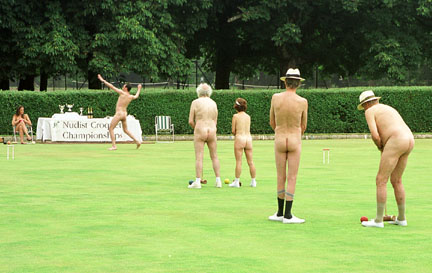 by Quiller Barrett
2nd August 2002 (
Other News
)
Not only thunder rocked Ealing today. The public were prohibited from getting near the croquet lawns and security guards were in position with their walkie-talkies. All because the first ever (or will someone contradict me?) Nude Croquet Championships were taking place.
More than half-a-day's filming may be seen, edited down to a 30 sec. TV commercial, advertising a new brand of crisps.
In case the CA's committee responsible for recruitment starts getting excited, I must report the players were - well, let's face it, wrinkly. I should hastily add they were specially imported and not members of Ealing Croquet Club. But look out for the final pack shot which involved a very charming young lady . . . and a young gentleman streaker who got a round of applause from the ladies present.
---