Leicestershire gain their third GC Inter-County Championship title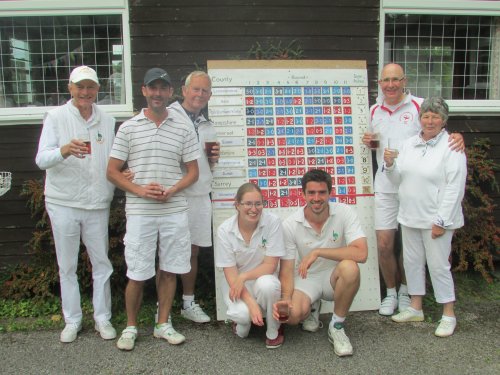 The winning team celebrates by the scoreboard
by Bill Arliss at Southwick
19/20 Aug 2017 (
GC - Championships
)
The 2017 Golf Croquet Inter-County Championship was held over the weekend of 19/20 Aug 2017 at Southwick. Originally, 14 counties applied for this event but with only eleven lawns available for the final, this number was reduced to twelve by a playoff at Surbiton early in the year. Surrey and Northamptonshire came through this quite stiff playoff leaving Oxfordshire and Buckinghamshire to try again next year.
Looking over the team lists before the start, it appeared to most that there were three very possible contenders for the title. Leicestershire led by Will Gee and Rachael Rowe, Kent with Tobi Savage and James Goodbun and Durham/Yorkshire with John Paul Moberley and Richard Bilton. Our predictions proved to be quite true with Leicestershire and Durham posting 100% wins through all rounds on Saturday but with Kent losing two matches (to Hampshire and Durham). Saturday's weather was not quite up to the forecast with the odd heavy shower but luckily these were very short lived and caused no programme problems.
The two leaders continued their winning ways on Sunday for a further two rounds until Durham meet Leicestershire giving Durham their first loss 1-2. Unfortunately for Durham, they appeared to like this score and recorded two further losses to Sussex and Dorset. Kent were staging a comeback and won their first four matches on Sunday, three of them being clean sweeps. However, Leicestershire finally put matters beyond all doubt with a 3-0 victory over Kent in the final round and, thus, posted eleven wins. Kent's scoring in all other Sunday rounds was sufficient to give them second place with a better games record.
As someone who has been involved with GC since its rebirth, it is very pleasing to report on an event whare all the "headliners" are from the younger generation. It bodes well for the future.
The final results are shown below
COUNTY
PLAYED
WINS
GAMES
POSN.
Leicestershire
11
11
30
1
Kent
11
8
25
2
Co Durham/Yorks
11
8
22
3
Hampshire
11
7
20
4
Somerset
11
6
16
5
Sussex
11
6
16
6
Middlesex
11
5
13
7
Northamptonshire
11
4
13
8
Dorset
11
4
13
9
Surrey
11
3
15
10
Worcestershire
11
3
10
11
Glamorgan
11
1
5
12
____
Bill Arliss
Manager
---