David Maugham won the North of England Championship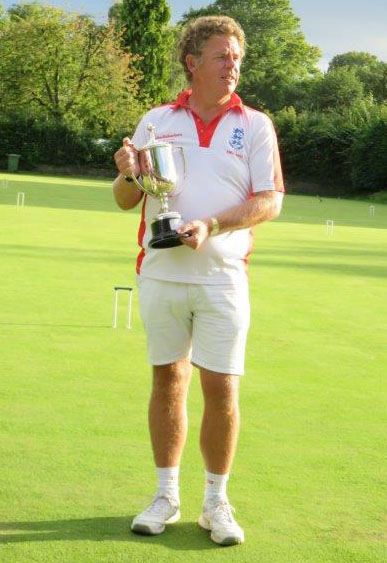 David Maugham, 2017 North of England Championship winner (Photo: Ian Lines)
by Ian Lines at Bowdon
31st August 2017 (
AC - Championships
)
David Maugham won the North of England Championship at Bowdon held between the 25th to 28th August, beating Marcus Evans 3-2 in the final.
A full field of 22 players, including some first timers at Bowdon like Nick Parish, enjoyed glorious weather for 4 whole days - the warmest August Bank Holiday in decades. The lawns were significantly improved since June and were playing quite reasonably at about 11 Plummers. Hoops were set to just under 1/32" on the largest ball in each set, and whilst conditions were still relatively easy once a break was established, there were still a number of breakdowns at hoops.
In the main event, Joel Taylor had good match wins against Ian Lines and Nick Parish, before losing to David Maugham in a semi-final where Joel had a few good finishing chances. Joel has clearly improved significantly over the last year. Marcus Evans was also playing as well as ever and beat James Hopgood in the other semi-final. The final was closely fought - in game 2 Marcus finished off the contact, and in game 4 Marcus also hit in and finished after being tpoed when David failed hoop 4. In the deciding 5th game, Marcus missed a 7 yarder for a reasonable tp chance and David had a tidy qp to win.
In the Plate, Mark Suter completed his first CA tournament sextuple against Paul Rigge, earning his Platinum Award, and Jerry Guest was almost as pleased with his triple against Debbie Lines. The Plate knockout again saw Joel Taylor playing well with wins against James Hopgood and Robert Wilkinson, before beating Ian Lines in the final.
The catering at Bowdon was, as always, second to none, and many of the players also enjoyed a meal out on Friday to celebrate Alison's birthday. There was also an entertaining fish and chip supper at the club on Saturday, kindly organised by Liz Williams, and an excellent Chinese meal in Altrincham on Sunday.
But some of the greatest interest during the event was the collection of several hundred old croquet photos that Liz and Rupert Webb brought to the club - many hours were spent trying to identify old faces - some of these fantastic photos will be put online.
Many thanks are due to Bowdon for hosting this excellent event, particularly to the countless catering volunteers, to Barry Keen for setting the courts, to Alan Mayne and his team who mowed every morning and to Martin Granger-Brown for presenting the trophies.
Round 1
Round 2
Quarter Final
Semi Final
Final
Winner
David Maugham

David Maugham
+26sxp +6

David Maugham
+13tpo +17tp

David Maugham
+24tp -17 +25tp

David Maugham
+11tpo +16 +20

David Maugham
+20qp -14otp +26tp -10otp +17qp

Francois Garcia
Dennis Scarr

James Hawkins
+18 -6 +11

James Hawkins
Sam Murray

Sam Murray
+7otp +26

Dave Kibble
Ian Lines

Joel Taylor
-22tp +8tpo +23tp

Joel Taylor
+4 -16 +25stp

Joel Taylor
Nick Parish

Nick Parish
-15 +25tp +24tp

Miranda Chapman
Mark Suter

Mark Suter
+23 +20tp

Mark Suter
+21tp +23

Marcus Evans
+3tpo +18tp

Marcus Evans
+5tpo +3tp +26tp

Jerry Guest
Debbie Lines

Andrew Winn
+20 +26tp

Andrew Winn
Robert Wilkinson

Marcus Evans
-26tp +21 +8tpo

Marcus Evans
Chris Williams

Phill Scarr
-16 +3 +19tp

James Hopgood
+21tp +6

Phill Scarr
Paul Rigge

James Hopgood
+26tp +13tpo

Alison Jones

James Hopgood
+8 +26

James Hopgood
---