Jayne Stevens and Lionel Tibble won the English National GC Doubles Championship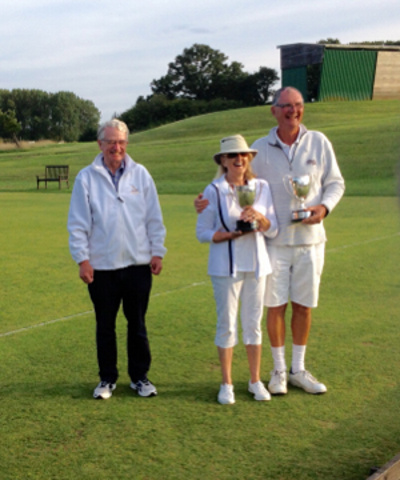 Jayne Stevens & Lionel Tibble, winners of the English National GC Championship 2017 (Photo: Ivor Brand)
by Ivor Brand at Hampworth Golf & Country Club
11th September 2017 (
GC - Championships
)
The English National GC Doubles Championship, 2nd to the 3rd of September
This grand and prestigious event was hosted by the Hamptworth club early on in September. Unfortunately the enormity of the title was not equalled by the size of entries. In fact there were only three pairs entered and there was talk about it being not contested again as it was in 2015! Fortunately, Mr and Mrs Raby were talked into saving the day and making it a worthwhile event. (THANKYOU!) This meant that the 'legends' of the past (Sheen and Strover) would have an event to remember (before their memory goes completely). However, with such a small entry it was decided to condense this championship into a one day event which pleased all including our dedicated resident referee Richard Jenkins.
The agreed format was to play a round robin of two 13-point games consecutively against each pair with no time limits. The winners being those who had accrued the most games won. The setting and the weather was fantastic and we all went about our business enthusiastically. After round one each pair had recorded a win and a loss. Therefore, all to play for still in round two which again resulted in tie for all pairs. Surely, something had to give in the last round for the manager not to have to look at net points?
The clash of the 'legends' saw the Brand brothers miss out 7-6 to Sheen and Strover, while Tibble and Stevens squeaked a 7-6 win over the Rabys. All in all, a very tight affair and the resulting final 19-point game was no different with neither pair being able to breakaway. In the end it was Jayne Stevens fine hoop running supported by Lionel Tibble's clearing that secured victory over Chris Sheen and Dick Stover 10-8.
Nick Beard the Chairman of the club presented the magnificent trophies.
---