Student Championship Results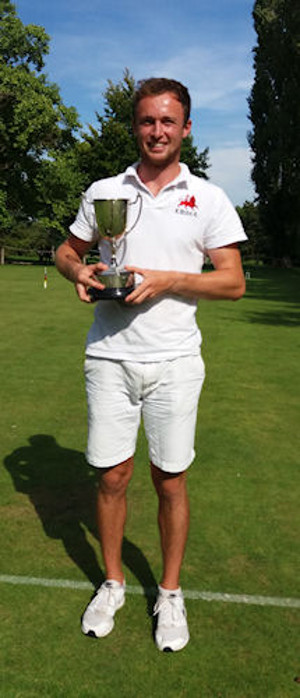 Student Winner Craig Winfield (Photo: Ian Plummer)
by Joshusa Bull at Oxford University Croquet Club
28 Aug 2017 (
AC - Championships
)
This year's second August Bank Holiday weekend saw the triumphant return of the Student Championships managed by Will Nathan and hosted as usual at Oxford's University's Lawns in the delightful University Parks. The blue sky turned out for the duration of the tournament, along with competitors from University clubs across the UK. This year, the competitors included undergraduate and postgraduate students who travelled from their home universities in Cambridge, Exeter, Plymouth and Sheffield as well as Oxford locals.
The first day of the tournament saw action from early rounds of both the singles and doubles competitions, with the first result of the tournament seeing a strong Oxford pair of Mark van Loon and Will Nathan dispatching the Exeter/Plymouth duo of Ross Moore and James Woolas* 26-2. First round victories also came for the two other Oxford players in the Singles Competition, with Mo KaramiNejadRanjbar and Joshua Bull knocking out Alex Clunies-Ross (Exeter) and Gregory Peters (Sheffield), alongside a victory for Ian Mak (Exeter) against James Woolas (Plymouth).
The second day saw the completion of the Doubles competition, with a victory by the second Oxford doubles team over Exeter's Ian Mak and Alex Clunies-Ross leading almost immediately into an all-Oxford Doubles final which saw Mark van Loon and Will Nathan claim the Edmund Reeve Universities' Croquet Challenge Cup against Mo KaramiNejadRanjbar and Joshua Bull. Sunday also saw a host of singles matches which led to two semi-finals: Craig Winfield (Cambridge) secured his place against Mo (Oxford) by beating Ian Mak (Exeter) 26-2, and Will Nathan and Mark van Loon of Oxford assured their semi-final places by defeating Ross Moore (Exeter) and Joshua Bull (Oxford) respectively in the quarter-finals. The final two matches of the day set the scene for an Oxford vs Cambridge final, as Mark van Loon won 26-14 to claim his place against the in-form Craig Winfield, who had won his semi-final 25-1.
With the Doubles competition complete, Monday was completely free for the best-of-three singles final between van Loon and Winfield. The hoops were quietly narrowed to 1/32". While their previous rounds had seen some spectacular near-miss attempts at the sextuple peel, both players entered the final day with much tighter, more defensively minded play. Despite a bold effort from van Loon, it was eventually Craig Winfield who saw his way through to a hard-fought two set victory. Despite not taking home the silverware, all the student players from the competition deserve to feel pleased with their performances, and with demonstrating the broad appeal of the Student AC Championships.
*The Exeter and Plymouth medical schools are now combined hence the ambiguous lineage of James.
---