Jonathan Lamb won the Selectors' Weekend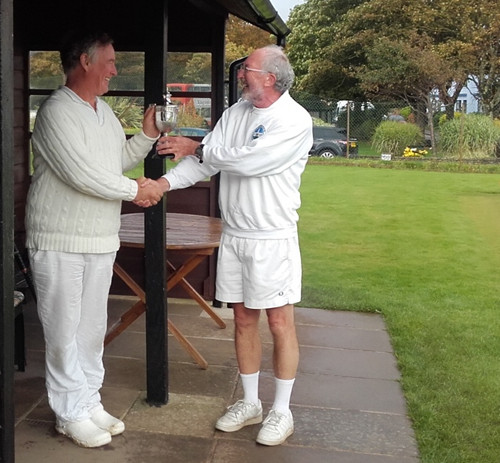 Ian Vincent presents Jonathan Lamb with the Ranelagh-Weightman trophy (Photo: Richard Wood)
by Richard Wood at Sidmouth
18th September 2017 (
AC
)
Selectors' Weekend 2017 Sidmouth, 8-10 September 2017
Jonathan Lamb (Canterbury) beat Andy Dibben (Surbiton) +17 in the final to win the Selectors' Weekend.
This was the first year of a new format for the Selectors', with 16 players divided into two blocks of 8, and the top two from each block to contest semi-finals and a final. With dark falling around 8 p.m. and an unfrielndly weather forecast this looked like a challenging schedule for play at this level, and manager Colin Hemming (Colchester) promised a proactive approach to pegging down long games in order to keep the blocks moving. On day 1 the worst of the weather passed over the English Channel, allowing play to proceed uninterrupted until about 5.30pm, when an intense burst of rain and hail left all lawns waterlogged for the rest of the day. Bryan Harral (Wrest Park) was the early leader in the 'black' block, while the 'red' block had too many unfinished games to identify a front-runner.
Day 2 saw more rain but the courts remained just playable. It produced the event's only two TPs, both involving Jonathan Lamb. Ian Vincent's (Nottingham) triple against Jonathan was characteristically precise, while Jonathan's was described by victim Tim Jolliff (Taunton) as 'very entertaining', involving seven failed peel attempts,a bombard peel of rover and a pegout from behind rover. Against Beatrice McGlen (Nottingham), Jim Field (Bath) took his first break to peg but with an imperfect contact leave. Beatrice followed suit and pegged Jim out, only to see her own ball clip the peg too, leaving a one-ball game from hoop 1. After much entertainment for an enthusiastic crowd, Beatrice eventually ran rover with Jim (for peg) a yard from the peg, and hit the 13-yard return roquet to win +1. Dave Gunn (Nottingham) beat Richard Wood (Sidmouth) at 8.10 p.m. with a pegout that was heard, but not seen, from the boundary.
The plan for the final day was: first play the final round of block games, then complete those pegged down games from earlier that were needed to determine block winners, then to proceed straight to a final between the two block winners. In view of the backlog and the again poor weather forecast it was decided to abandon the semi-finals. Jonathan emerged as sole winner of the red block with 6/7, while Andy pipped Bryan in the black block on who-beat-whom. Jonathan won a well-contested final with some tidy break play to become a worthy winner of the Ranelagh-Weightman cup.
Ian presented the trophy to Jonathan on behalf of the CA, and echoed the feelings of all the players in thanking Colin for his hard work to steer us successfully through a tough schedule, and the team of volunteers at Sidmouth for ensuring that the players were provided with lawns, hoops and catering that befitted the occasion (even if the weather didn't).
---