News from Canterbury Croquet Club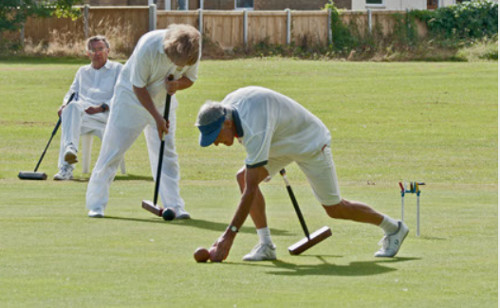 Canterbury CC (Photo: Frank Hughes)
by Frank Hughes
17th September 2017 (
Other News
)
WHEN the late Maurice Copus invited his neighbours to play croquet on his lawn he secretly hoped this humble start would lead to greater things.
That was nearly 30 years ago.
No-one would have been prouder than he of how the club has since progressed.
In those early days, on a small, uneven, lawn, we slowly built our numbers and began, with Maurice's approval, looking for better facilities.
It was in 1995 that we were offered ground at the privately-run Polo Farm Sports Club in Canterbury.
We were moved around for a while but eventually were offered space for two lawns adjacent to a cricket ground. There we continued to increase our membership and organised internal association croquet competitions.
We entered the south-east association B League and, later, the Unlimited Handicap league.
Before long we won the 'U' league and entered for the Secretary's Shield. The first-round draw was against Newcastle. We didn't realise that we could have asked to play nearer to home so flew north. We won there but were knocked out in the semi-finals. When we won the league again we progressed to the final of the Secretary's Shield. Team spirit and a will to win resulted in victory over High Wycombe in the final. We are told that we are the only south-east league team to have won this event. The club continued to compete in association croquet but golf croquet began to grow in popularity and became the primary source of new members.
For several years the club had known that Polo Farm wanted to sell the land on which we played. When the time came for us to quit we were offered alternative sites that were too poor for hosting matches.
We lost members and playing standards dropped. The club might have folded but for a loyal band of players and the determination of our chairman Barry Sales to find us a new site.
Several options came and went but Barry finally succeeded in persuading Polo Farm to create three new lawns for us on scrubland it had bought. Many thousands of tons of soil were needed to laser-level the ground. It was seeded last autumn and was fit for play by June.
Meanwhile the club had decided that the new ground's delightful setting was worthy of a first-class clubhouse. A building by Passmores was selected but hopes of buying it sank when a grant application failed.
It was then that the Croquet Association came to the rescue with a £5,000 grant. This sum, added to the club's own funds, plus £500 from the South-east Croquet Federation, enabled the building to be erected. Now, thanks to a generous offer by a long-standing member, the club is aiming to fit out the interior.
To help celebrate the opening of the new lawns Jonathan Lamb, who plays for Canterbury during his half-yearly stays in Europe, organised a one-ball tournament which attracted, among others, Stephen Mulliner.
The event has been hailed as a success and the club hopes it can become an annual event.
The club recently scored its first victory in the south-east unrestricted handicap golf croquet league; a sign that playing standards are rising as a result of good lawns.
It is applying for grants to provide toilet facilities and a first-class lawnmower.
This year around 80 people replied to invitations to try out croquet, eight of whom have so far joined the club. Our membership drive will continue in earnest and fundraising events are planned for the close season.
---