Omied Hallam won the Treasurer's Tankard (CA 4th Eight)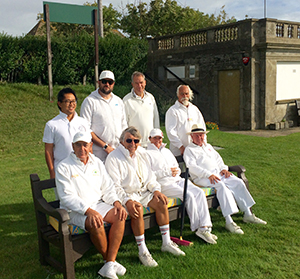 by Eugne Chang at Ramsgate
18th September 2017 (
AC
)
This year's Tankard, held at Ramsgate Croquet Club, was won by Omied Hallam, who led from the front with some memorable shooting, hoop running and peeling turns, holding his nerve in a number of close finishes to pip Martin Murray and Eugene Chang to the post on 10 wins. There were four Eights debutants this year learning the ropes - for anyone who has yet to enter an Eight, I would encourage them to do so to experience the atmosphere and format. Nonetheless there were plenty of old hands to (mis)direct us and to retell stories of croquet legends and their winning turns of the past, in full unadulterated detail.
The weather played a huge part in the scorelines, with most of the 8 triple peels completed in the first round of 7, before the wind picked up significantly in the last three days to make even routine hoops and short roquets challenging. Some spectator highlights include Alison defeating Omied in a one-ball game from 1 and 1 with some quality croquet strokes after Omied completed the TPO in two turns, and Nelson edging out Omied in near-gale force winds on Sunday, having missed a short pegout AND the subsequent single ball pegout next turn.
Off the lawn, the Eights experience was majestically enhanced by Alison Jones's enterprise in arranging shared accommodation for most of us in close proximity to Asda, and by the late promotion of her dad, Cliff Jones, retired chef, Michelin star, first class. He and several others chipped in each night to prepare some sumptuous evening meals each day, to add to the exceptional lunches provided by the club. As Nick Parish, chief organiser of the Eights Prediction Contest declared: "[this] must make this the best cooking 8, maybe ever". Food photographs of the event are rumoured to have made it to social media outside the croquet sphere, whilst the newbies amongst us learnt that the secret to an unbeaten day of croquet lies in having leftover cheesecake for breakfast (Martin Murray, 2017).
Our special thanks must go to local members Trevor Longman and Charlie Martin, and we were delighted to take them for dinner on Ramsgate pier on Sunday evening, where Charlie wowed us even further with a delightful turn on the piano.
| | | |
| --- | --- | --- |
| | Wins | Losses |
| Omied Hallam | 10 | 4 |
| Martin Murray | 9 | 5 |
| Eugene Chang | 9 | 5 |
| Nelson Morrow | 8 | 6 |
| David Marsh | 7 | 7 |
| Nigel Polhill | 5 | 8 |
| Cliff Jones | 4 | 9 |
| Alison Jones | 3 | 11 |
Full results on CroquetScores
---