David Barnicoat won the All England GC Handicap Final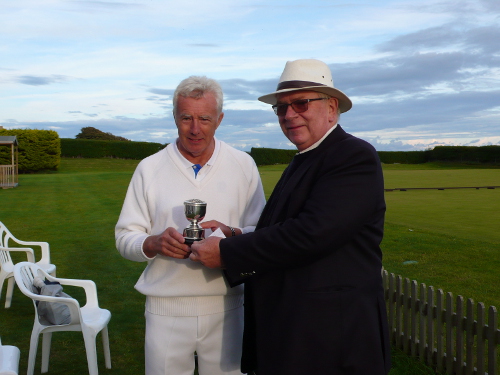 David Barnicoat, 2017 winner of the All England GC Handicap Final (Photo: Roger Loram)
by Roger Loram at Ramsgate
22nd September 2017 (
GC
)
GOLF ALL ENGLAND REPORT
Over the weekend of September 16th and 17th sixteen Golf Croquet players competed in the All England Golf Croquet Handicap National Final at Ramsgate Croquet Club. Players, who came from all corners of the country, had won their way through previous rounds to play in the final.
The weather was just right for the two days, a pleasant temperature with the wind and the rain holding off which, together with the excellent condition of the lawns, made it perfect for playing croquet.
During the weekend the competitors had to play 15 matches over the two days and at the end of the first day David Barnicoat (6) from Enfield was in the lead with 7 wins from 8 matches with 4 other players in close contention with 6 wins from 8 matches, Nick Archer(-2) from Watford, Richard Jones (4) from Kington Langley, Chris Joslin (10) from Maldon and David Vincent (3) from Blewbury . Many of the matches were close with competition friendly but intense.
David Barnicoat, who only took up croquet less than a year ago, maintained his lead during the second day winning the competition with 13 wins, 2 ahead of second, third and fourth placed players who had 11 wins each. Second place went to Chris Joslin (Maldon) who beat David Vincent (Blewbury) into third place with a higher net hoop score of +22 to +13 and Brian Wilson (Camerton & Peasdown) into fourth with +11
Jonathan Issacs, a Vice President of the Croquet Association came from Brighton to present the trophy.
The Manager, Roger Loram who together with Graham Wallin as ROT ensured the competition ran smoothly. The Refreshments including lunch and afternoon tea were highly acclaimed by all the players and were prepared by Meg Bowyer and other members of the Club .
---