Richard Carline won the GC A/B-Level One-Day Tournament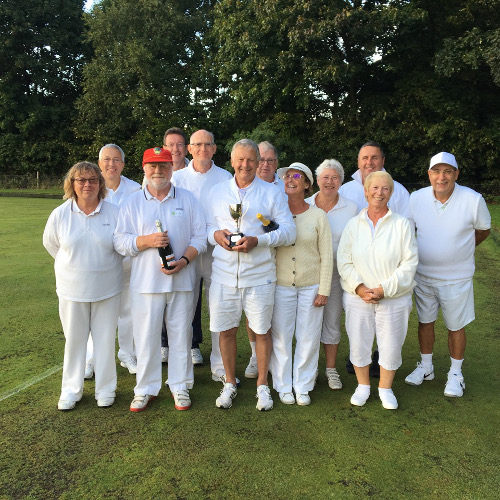 Richard Carline, winner of event (centre), with fellow competitors (Photo: Mike Huxley)
by Mike Huxley at Guildford & Goldalming
25th September 2017 (
GC
)
Richard Carline won the CARA Cup at Guildford and Godalming, 9th September 2017
Twelve players, with GC handicaps ranging from 0 to 6 and from clubs as far away as Norwich and Kingston Maurward, contested the second running of the CARA Cup. Two all-play-all groups of six were formed, with the winners of each to contest the final, the runners-up to play for 3rd and 4th places, etc. Weather generally good, but with some brief interruption to play from passing showers.
After the 5 rounds were complete, there was a clear winner of the red group - Derek Cole (3, Norwich) with four wins. The blue group was a much tighter affair, with four players each finishing with 3 wins. Richard Carline (3, Sussex County), having won only one game out of three in the morning, made a late burst after lunch, winning his final two group games emphatically and ensuring his 1st place in the group on net points.
So, to the final. Derek won the toss and alternate hoops were scored until Derek led 3-2. He looked odds on to take hoop six, with two balls each in good position to run the hoop. Richard had other ideas, though, spotting an opportunity to run an excellent long hoop and level the score at 3-3. Derek won the next, but Richard levelled at 4-4, broke the alternating sequence by taking the lead with a good angled hoop 9, made hoop 10 comfortably and finished off at hoop 11 with a neat jump shot over Derek's jawsed ball.
A good day's competition and a pleasure to manage. Thanks to all the competitors for making it so easy.
---