Report on the 2017 National Juniors and Schools Championships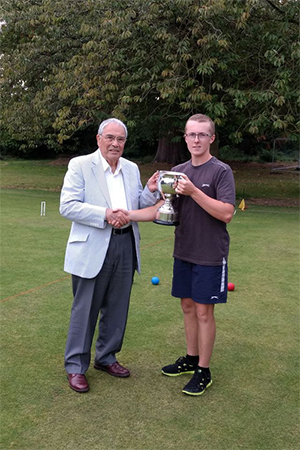 James Galpin, 2017 Junior Singles Champion, with CA President Quiller Barrett (Photo: Marcus Evans)
by Marcus Evans at Watford Croquet Club
24 Sep 2017 (
Other News
)
The National Juniors and Schools Championships were held at Watford Croquet Club in brilliant sunshine on Sunday 24 September. Numbers were slightly down on the last couple of years due to some older students leaving school, and availability of other players, but it was very encouraging to see 5 young players who have all now been playing or at least 2 years and are clearly progressing in the game. For reasons of time (due to the distances travelled), Short Croquet lawns and 14-point games were used, but all the players clearly could have coped with larger lawns and longer games, which is something we will look at for next year.
The first event of the day was the National Schools Championship, with just two pairs playing a final. Holders Farlingaye High School (Ipswich) changed their line-up this year, with last year's winner Albi Willett partnering last year's runner-up Ryan Gray, leaving 2015 Junior Champion Eden Rogers (Farlingaye) paired with 2015 & 2016 Junior Championship runner-up James Galpin (Mark College, Somerset), the latter bidding to become joint holders for their respective schools.
James had a strong start and took his ball round to hoop 6 on the fifth turn. The Farlingaye pair briefly discussed the possibility of a rover peel (they had been hoping to peg James out until they saw him laying up before 6) but in any case missed the long shot left to them. Eden found it harder to get going and with James apparently hitting everything in the meantime, slowly progressed to hoop 3. Then Albi got in and made an entertaining break including getting cross-wired from the hoop 5 pioneer but hitting a ball near hoop 1 and continuing (small lawn, remember) before deliberately stopping at 6 also. With time running out, his partner Ryan made hoop 1 but was unable to progress further, leaving his side one point behind.
When Eden hit in with 2 minutes to go it looked enough to secure the win, but he misapproached hoop 3 from distance just before time was called. Rather than attempting a very difficult hoop that would have left a short roquet for Albi if missed, the pair sensibly decided to retreat to corner IV. Albi however hit his 7-yarder anyway, and after checking the rules and the score, decided to take off from hoop 5 to get position at 6. This he ran with some wire, and promptly turned round and hit the peg to win 8-7(t) - a fine finishing turn to take the Schools' trophy for Farlingaye for the third year in a row.
On to the singles competition for the National Junior Championship, which with the arrival of Euan Burridge to make 5 players, was played as an American block. Aware of the recent discussion on the matter, the manager specified net points as the first tie-breaker (very appropriate for this event), there being no time for a play-off. However, despite the short time limit of 75 minutes, only one game (the first) went to time, Eden beating Ryan 12-11.
In the other first-round game James was not quite as fluent as before, while Albi took a quick first break round, boldly going to the peg this time. During his second break he misplayed a croquet stroke and uncharacteristically missed a 4-yarder (about his only miss under 10 yards all day, I reckon). This allowed James to go round to the peg, and in rushing Albi's peg ball across the lawn for his leave, accidentally ricocheted off hoop 5 and finished by the peg. James admitted afterwards that it was only here he thought about pegging out, and he duly did so, before playing a nicely controlled 3-ball ending and winning +4 shortly after.
Euan versus Albi had an entertaining opening in which Euan failed hoop 1 on turn one, Albi made hoops 1 and 2 off this but blobbed 3, followed by Euan missing partner ball into A-baulk. Fortunately for him Albi was unable to make a break off this and Euan shortly completed a nice break of six hoops, albeit leaving a double which was duly hit. Albi took full advantage by going round and pegging Euan out, winning +5 shortly after.
Meanwhile, James had an early break against Ryan but blobbed hoop 6. Ryan missed and James was able to start his next turn by doing the peel, followed by an all-round break to win +14, marking him out as the clear favourite. He followed this up with a convincing +11 win over Eden, while Euanstayed in touch by beating a luckless Ryan by the same score. Albi of course was also in contention on one loss and after all three balls missed hoop 1 with their first three turns, he went to peg on the fourth turn and later beat Ryan +9. Despite playing a wrong ball on turn 3 (worst time to do it) Euan later made two good breaks and beat Eden +9.
All this set the last round up nicely - if James beat Euan he would be undefeated and the clear winner. If James lost and Albi beat Eden convincingly, Albi could come out ahead on net points, while Euan needed to beat James by a significant margin, to overturn his net points deficit against both James and Albi.
Albi did his bit by beating Eden +13 in double-quick time. The players and spectators had worked out by this time that James in fact only needed to score 10 points to assure himself of the title, but Euan got much the better start and had his first ball on the peg before James had really begun. The second ball was also progressing nicely until a take-off to the hoop 5 pioneer (which appeared to be in the jaws of the hoop) went to the south instead of the north. Before anyone really realised what was about to happen, Euan ran the hoop hard, rushing the other ball off the north boundary. At this point the referee in charge intervened to check where the other ball had been prior to that shot - if any part of it was in the jaws, it was just a roquet and the hoop still had to be scored, whereas if the ball was clear of the hoop, it was hoop and roquet and that should have been plain sailing for Euan to finish.
After some testing, Euan agreed that the ball had been (just) in the jaws, but the referee consulted another and they felt to continue play from the resulting position would be unfair, given that ideally the referee in charge should have intervened one stroke sooner. It was therefore decided to allow Euan to replay the stroke, which he did, gently, but the subsequent backward take-off led to an angled hoop, which was failed. James, no doubt also a bit put off by events, then missed, and to the referee's relief an equal position was naturally achieved. However, James made the most of his next opportunities, and with Euan unable to hit back in, he secured the 10 points needed, and soon after the game as well to become the Junior Champion at the third time of asking.
It only remained for CA President Quiller Barrett to present the handsome trophies, and for all to thank the Watford club, in particular Simon Hathrell who was superb in setting out 2 fresh courts, letting us in and out, and even providing refreshments.
---