Sheffield beat Middlesbrough to win Secretary's Shield 5-2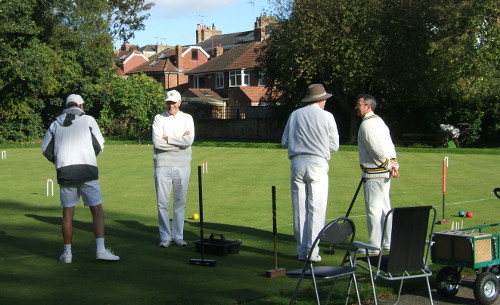 The doubles gets underway: Dennis Scarr, Andrew Killick, Trevor Ballard & Mark Simmerson (Photo: Ian Vincent)
by Dr Ian Vincent at York
3rd October 2017 (
AC - Secretary's Shield
)
The final of the Secretary's Shield was hosted by York on a bright and breezy day, the last of their season. Play was equally brisk, with Sheffield taking the doubles and one of the morning singles to edge into a 2-1 lead at lunch. They went 3-1 ahead, but then Middlesbrough clawed one back, before Maggie Crossland took Sheffield over the line.
Trevor Billard (2.5) & Mark Simmerson (10) bt Andrew Killick (0.5) & Dennis Scarr (1.5) +11
Maggie Crossland (16) lost to Nigel Roberts (10) -15
Adrian Simmerson (10) bt Julian Sibson (14) +15
Trevor Billard bt Andrew Kilick +7
Mark Simmerson lost to Dennis Scarr -8
Maggie Crossland bt Julian Sibson +8
Adrian Simmerson bt Nigel Roberts +12
Many thanks to York for hosting, and congratulations to both teams for having got to the end of a two year campaign.
---