England won the inaugural GC Home Internationals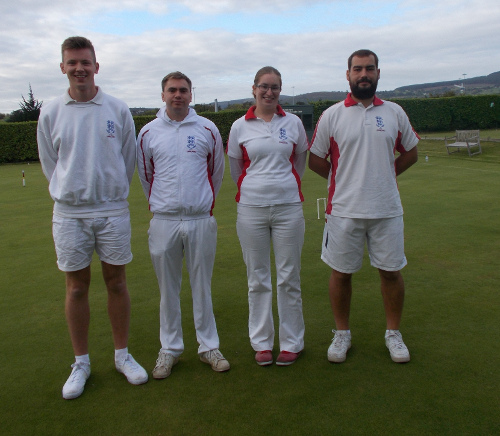 The winning England GC team (Photo: John-Paul Moberly)
by John-Paul Moberly at Carrickmines
1 Oct 2017 (
International
)
England won the inaugural GC Home Internationals (30th to 1st October) at a sunny Carrickmines by decisively beating Ireland 5.5 to 0.5 in the final round.
Good wins on Day 1 against Wales and Scotland left England going into the final round knowing a draw would give them overall victory, while only a win would have been good enough for the Irish to claim first place on home soil. All four teams fielded strong sides and while England looked favourites on paper, the Welsh had firepower through Ian Burridge and Ireland had the core of the team that finished 4th in the GC World Team Championship last year. Scotland looked the weakest but, with regular AC circuit players in their ranks, were never going to be pushovers.
The format was decided as three rounds (what turned out to be two Saturday, one Sunday - play was quick enough to allow the completion of the second round on Saturday) of six point matches consisting of two bo2 doubles and four bo3 singles of 1v1, 2v2 etc. This slightly unambitious format allowed for generous lunch breaks and plenty of time for visiting players to catch their Sunday evening flights home.
Round 1 pitted England against Wales and Ireland against Scotland. The no. 1 English doubles pairing of J-P Moberly and Tobi Savage had a scare early on as they went 4-6 down to Burridge & Sarah Melvin - who's steady hoop running and clearances had brought them back from 4-1 down. Moberly and Savage were able to claim the game 7-6 after close misses by Burridge at hoops 12 and 13. A 7-5 win for England in the second game added a second point to the English scorecard after their other doubles pairing of Rachel Rowe and Harry Fisher had a much more comfortable victory over Tudor Jenkins & Arthur Rowe, in what was a first in the Home Internationals and probably in first-class croquet; father and daughter Arthur and Rachel competed on opposing sides. At least Arthur's wife and Rachel's mum, Judith, could cheer on both!
The singles saw Welsh captain Burridge continue his fine form and beat English captain Moberly, but this proved to be it in terms of points for Wales and the other singles matches were won by 2-0 margins for England, giving them a 5-1 win. The other match proved to be another one-sided affair as Ireland notched a 6-0 win over Scotland. The Irish, led by captain Jack Clingan, only dropped one game in the singles to set the early pace in the event. Scottish captain and no. 1 Martin Murray took a game at the 13th hoop against Clingan. All else, however, proved to be in Ireland's favour including a win for debutant Mark Stephens against the competitive (and fellow debutant) Alan Clark.
After a fantastic lunch provided by local member Anne-Marie, round 2 soon followed. It was one-a-piece after the doubles round between Wales and Ireland, and while Patsy Fitzgerald continued his good form in the singles by only dropping one hoop against Jenkins (he had only dropped two in his first round match against Alan Wilson), the others were closer, finishing in two wins each and an overall match draw.
England faced Auld Enemy Scotland, and while the Scots were able to claim the scalp of the event when Murray beat Moberly in two, England's superior play showed in the other matches resulting in a 4.5-1.5 win. Scotland's other half point came from an entertaining doubles match between Murray and Clark, and Moberly and Savage, where after the English pair quickly won the first game 7-1, the Scots powered to a 3-0 lead in the second. Savage played the shot of the tournament to save Murray and Clark going 4-1 up by jumping both Scottish balls in front of hoop 5 from the South boundary (!), but it proved to be insufficient to stop the Scots equalising the match.
Day 2 had a late start and a welcome extra half an hour of sleep thanks to Scot Campbell Morrison's good thinking the previous evening. With only one round to play, it was up to Ireland and England to contest the top two spots and Scotland and Wales to avoid the wooden spoon.
Scotland, 2-0 down after the round of doubles, had a bit of a rally where regular AC players Wilson and Morrison each won a game of their singles matches against Jenkins and Melvin respectively but ultimately succumbed in the third to lose close contests. Clark won their only point with a good win over Arthur Rowe and while Murray at several stages looked in strong shape to take the 13th hoop (and the match to a third game) against Burridge, Murray unfortunately managed to clear his own ball and knock Burridge into runnable position to decide the match!
Spectators over lunch were able to enjoy this and an excellent match between Ireland's Fitzgerald and England's Rowe, who decided to play their 3rd game directly in order to avoid any double banking. Fitzgerald had won the first 7-0 (his third whitewash in the event, and meant at that point he had only dropped 3 hoops in 5 singles games - impressive stats!), Rowe, however, rallied and won the second 7-5 and then treated the gallery (munching on a fine assortment of smoked salmon, potatoes and salads) to a superb display of clearing and hoop-running to win the decider 7-1.
The gave England a 2.5-0.5 lead after a 1-1 draw in one of the doubles where Ireland's Simon Williams played fluently with Fitzgerald and ran a boundary hoop 13 against Rowe and Fisher to win game 1. England won game 2 and so were able to add a half point to the full point Moberly and Savage had gained against Clingan and Stephens. This left England needing to win a game in any of the three remaining singles matches, being 1-0 up in each at lunch, to both beat the Irish and win the overall event. Burridge sportingly warned the English that it would be "the bottle of all bottle jobs" were it to happen; thankfully, the only liquid vessel England was concerned with was the Home Internationals trophy!
So excited were we to get our hands on the metaphorical trophy (Burridge has kindly offered to donate one for next year), that Fisher, in his singles match against Ireland's Stephens, after running what he thought was the match (and event!) winning hoop, offered a handshake to his opponent, who then rightly reminded him that had only made the score 6-5! Fisher recovered from the embarrassment to win at hoop 13 and give England the unassailable lead they needed. Moberly and Savage recorded good wins against Clingan and Williams respectively to win the match 5.5 to 0.5 and claim the trophy.
Many thanks to the Croquet Association of Ireland and Carrickmines for hosting this superb event, to Nathanial Healy for his management (when sheep selling didn't interfere!), to Jay Dyer who travelled with Sarah Melvin and refereed the event without any issue (even when England, and in particular Tobi Savage, gave him plenty of lawn damage calls to decide on!) and to everyone who was involved with setting up and organising the event. We look forward to seeing everyone in England next July.
---